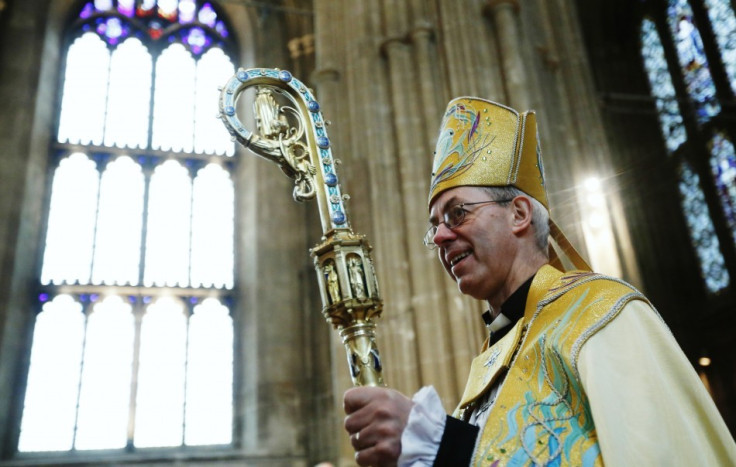 The banning of a 60-second cinema advert featuring a diverse group of people reciting the Protestant Lord's Prayer in UK cinemas has been called "plain silly" by the Church of England. The ad features the Christian prayer being sung or recited by refugees, a grieving son, weightlifters and the Archbishop of Canterbury, Justin Welby.
It was hoped the advert would be shown across in UK cinemas ahead of Christmas before screenings of Star Wars: Episode VII – The Force Awakens, so it would be seen by millions of cinema goers.
The Digital Cinema Media (DCM) agency, which handles British film advertising for Odeon, Cineworld and Vue declined to show the advert, fearing it would offend some members of cinema audiences. The DCM said it was adhering to its policy of not showing religious or political advertising.
The organisation released a statement saying "some advertisements – unintentionally or otherwise – could cause offence to those of differing political persuasions, as well as to those of differing faiths and indeed of no faith. In this regard, DCM treats all political or religious beliefs equally."
The Church of England hit back by saying it was "disappointed and bewildered" by this response and that it could have a "chilling" effect on free speech.
"The prospect of many families attending the release of the new Star Wars film had seemed a good opportunity to launch the advert and a new website justpray.uk to promote prayer ahead of Christmas," The Reverend Arun Arora, director of communications for the Church of England told the BBC.
"The Lord's Prayer is prayed by billions of people across the globe every day, and in this country has been part of everyday life for centuries."
The Church of England may take legal action against the cinemas, saying it was the victim of religious discrimination, according to a MailOnline report.
Archbishop Justin Welby said: "I find it extraordinary that cinemas rule that it is inappropriate for an advert on prayer to be shown in the week before Christmas when we celebrate the birth of Jesus Christ.
"Billions of people across the world pray this prayer on a daily basis. I think they would be astonished and deeply saddened by this decision, especially in the light of the terrorist attack in Paris where many people have found comfort and solace in prayer," he told The Mail on Sunday.
"This advert is about as 'offensive' as a carol service or church service on Christmas Day."