Justin Welby, the Archbishop of Canterbury, has said he is opening the cottage at his London residence Lambeth Palace for Syrian refugees. The archbishop offered sanctuary on the grounds of his palace in response to the refugee crisis in Europe. Tens of thousands of refugees have traveled to the continent after fleeing war and terror in their home countries.
A spokeswoman of the province told the BBC: "As a Christian who leads the Church of England it is something he feels absolutely passionate about." According to the representative, the archbishop stated that Jesus was a refugee, which, to him, underlined the importance of solidarity. She said: "There are refugees here who are desperate for sanctuary from war-torn places and the archbishop is completely torn about their situation and wants to make a difference.
Welby lives in Lambeth Palace, on the south bank of the Thames, with his wife and two children. According to the spokeswoman, the cottage can host a "family or two".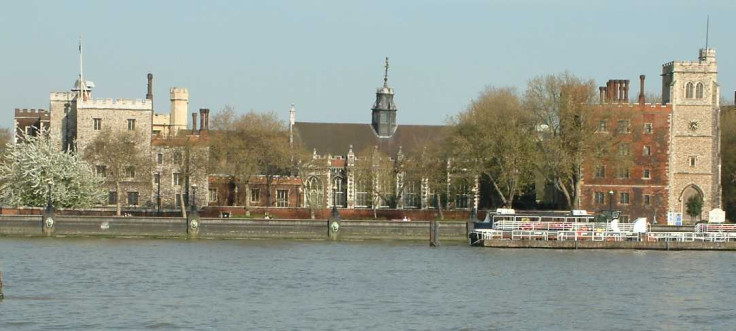 Earlier in September, the Canterbury bishop criticised the plan's by David Cameron's Tory government to resettle 20,000 Syrian refugees. He said the action was a "very slim response" considering the size of the refugee crisis.
During a House of Lords debate he said: "A problem of this scale can only morally and credibly be dealt with by widespread European collaboration." He added that the UK should do more to carry some of the weight put on Europe by the large number of people fleeing devastation.
Welby is not the only one criticising the government's plans in response to the situation. In a video interview with IBTimes UK, Green Party leader Natalie Bennett said that, as the UK holds 12% of EU economy is should host its fair proportion of the two million refugees coming to the continent, urging the government to host 240,000 displaced Syrians.
Welby's move follows a pledge by the Roman Catholic church that the organisation will play its part in resettling the refugees. Pope Francis called on Roman Catholic organisations to take in families and displaced individuals.
"It is not enough to say 'have courage, hang in there'", he said in a speeh. "May every parish, every religious community, every monastery, every sanctuary in Europe host a family."