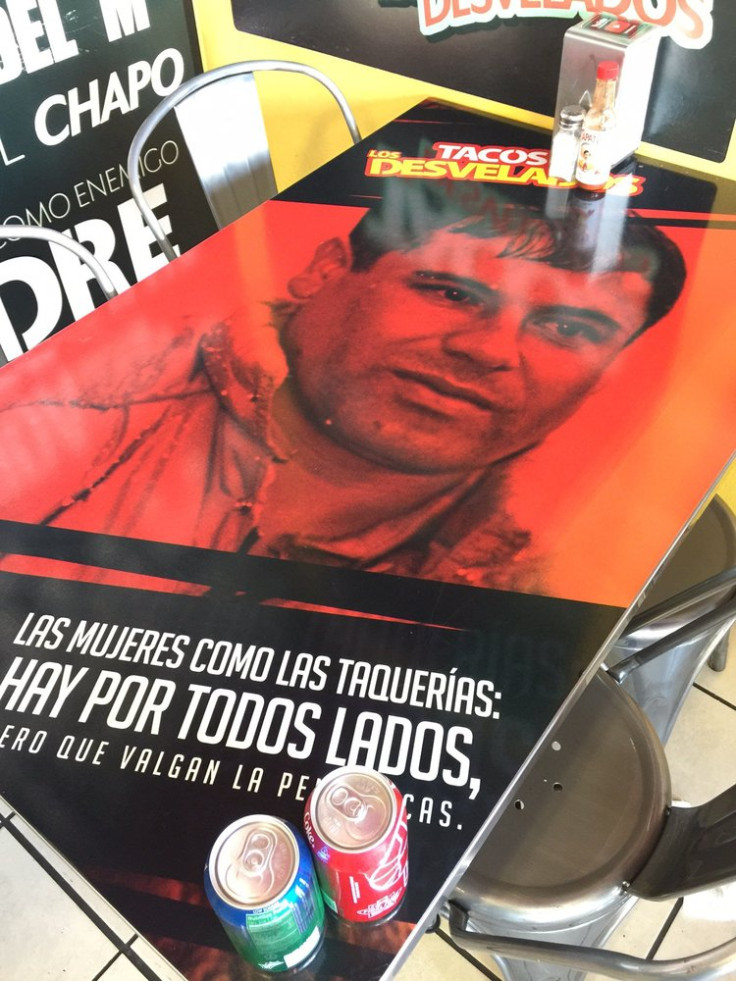 It's not unusual for southern California taquerias to feature themes — like highlighting Elvis memorabilia or 1950s American cars. But one eatery lauds Mexican drug lords with its wall art — and "narco-tacos" named in their honor.
Tacos Los Desvelados (Insomniac Tacos) in a strip mall in Maywood southeast of LA, may be the only taqueria turning criminals killing thousands of people into a fetish, notes Quartz. Some people get a kick out of it; others don't.
The menu, Quartz adds, reads like a "Most Wanted" list. There's the quesadilla La Reina del Pacifico, named for drug cartel leader Sandra Ávila Beltrán, who's currently in prison, the torta del Chavo F honoring a Sinaloa leader, El Chavo Felix, and the burrito Pablo Escobar named for the Colombian kingpin shot down by police 13 years ago.
A shrine in the corner of the shop lauds "shorty" Joaquin El Chapo Guzman, who is also honored with tacos el Chapito Guzman, which is served on tiny tortillas. (El Chapo was busted following his infamous interview with actor Sean Penn for the Rolling Stone magazine after a suspected safe house being watched by Mexican officials ordered an extremely large order of tacos.)
The food gets generally high praise on Yelp, and a manager says people love to come in and take photos with the shrines and wall art honoring other drug kingpins. "First of all I really like the whole theme of the place!" gushes one Yelp reviewer.
Not all potential customers think it's cute. "Anyone that thinks that the theme of this restaurant is cool needs to get a clue," wrote one. "What does this tell good people and children? You can be a bad person, sell drugs, kill people and maybe one day, some idiot will use your name for their food?!!
"If you like drug cartels so much go back to Mexico," said another. The taqueria is a testament to Mexico and Mexicans' influence in California, particularly Southern Californian.
The power and wealth of Mexico's drug lords have made them folk heroes to many Mexicans, much the way Americans have sometimes lionised Mafia dons and soldiers (in fact Los Desvalados offers an Al Capone Taco and features photos of Al Pacino as Scarface).
Popular Latin "narcocorridos" music — or "narco" ballads— are often paeans to the bloody outlaws, and concerts sell out in Mexico — and the US. The genre was even featured in the runway primetime TV hit Breaking Bad. A narcocorrido about the fictional meth-dealing title character was co-written by show creator Vince Gilligan and performed by Los Cuates de Sinaloa during the program's second season in 2009.