Love Island star Chris Hughes surprised fans yesterday (9 October) when he announced he was launching bottled mineral water infused with his own teardrops.
The 24-year-old rapper set pulses racing in the Rankin-shot film, which saw him strip down to a pair of Topman boxer shorts, caressing the said water bottle – named L'Eau de Chris – while crying a few lucrative tears.
"It's no secret that I shed a few tears on Love Island. Since leaving the show, I have been overwhelmed with the incredible love shown by fans of the show.
"Launching my own mineral water, infused with my own tears, is a chance for me to give something special back to those who have supported me since returning from the island."
But today (10 October) it was revealed that Hughes was just pulling our leg, all in aid of World Mental Health Day.
Hughes has previously opened up about suffering from depression and anxiety since leaving the Love Island villa, and claimed at a launch event today that his shoot with world-renowned photographer Rankin was designed to symbolise the fact 84% of UK men say they bottle up their emotions. It also aimed to raise awareness for CALM, the male suicide prevention charity for which Chris is now an ambassador.
Hughes marked his ambassadorship by joining forces with CALM and Topman to launch the #DontBottleItUp campaign, showing it's OK for men to open up rather than bottle their feelings up.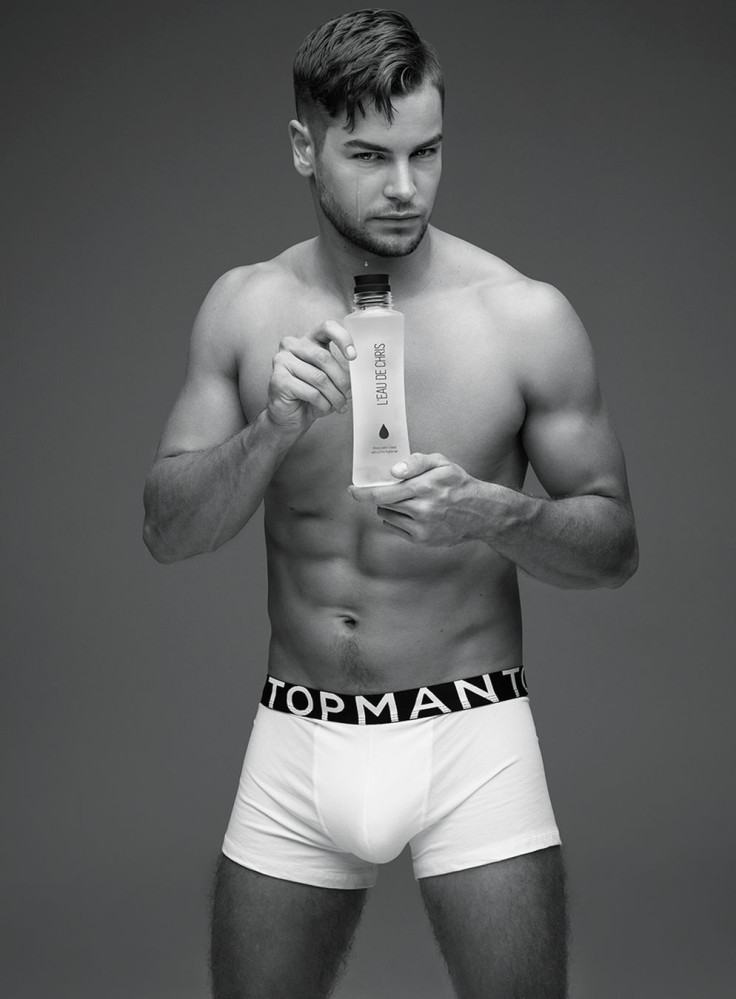 Speaking at the event in Topman's central London HQ, Chris said: "Yesterday everyone was shocked that I had literally bottled my emotions in a water bottle infused with my tears. And as the L'Eau de Chris name suggested, doing that would have been ludicrous; yet this is what men across the UK are doing every single day.
"What's really ludicrous is that suicide is still the single biggest killer of young men in the UK. We live in a culture that encourages men to 'man up' and bottle things up. That's why I've become an Ambassador for CALM and why together with Topman we want to show men across the UK that it's okay to open up instead of bottling it up.
"I've got personal experience of the benefits of opening up and expressing emotion, which is why I want to work with this incredible charity in its mission to making life less miserable for men across the UK. Our message to all guys is: however, you open up, just #DontBottleItUp."
James Scroggs, chairperson of CALM, added: "Both on and off screen, Chris has been widely praised for opening up about his emotions. As an Ambassador for CALM and the face of the #DontBottleItUp campaign, Chris will use his profile to help us to challenge a culture that prevents men from opening up and seeking help when they need it. With suicide continuing to be the single biggest killer of young men in the UK, it's vital that we show that it's okay to open up and ask for help if you need it."
Jason Griffiths, Marketing Director of Topman, also said: "Men's mental health is a hugely important issue and it's ludicrous that so many British men find it so hard to talk about their feelings. As a brand with a unique connection to the nation's men, Topman is proud to have worked with Chris in support of this initiative, as part of our long-standing partnership with CALM."