Liverpool striker Luis Suarez has avoided an extended ban from competitive football after FIFA confirmed no action would be taken following an alleged punch on Chile's Gonzalo Jara.
Suarez appeared to strike Jara during the 2-0 defeat at the Santiago de Chile in March.
However, following the submission of referee Nestor Pitana's match report, football's world governing body will take no further action against Suarez, who is already serving a 10-match ban for his club side Liverpool.
The 26 year old is therefore free to play for Uruguay in their five remaining World Cup qualifiers, starting against Venezuela in June, a crucial game in the battle for the fourth automatic qualification spot for next year's World Cup.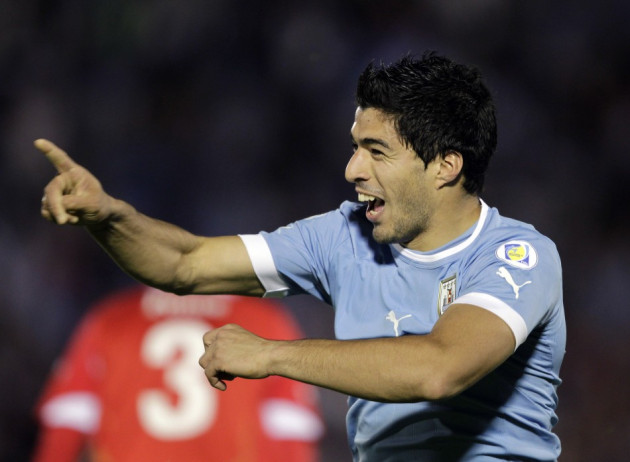 Uruguayan FA general secretary Fernando Cacares said: "The president of the disciplinary commission of FIFA has decided that this matter does not require the intervention of the disciplinary commission of FIFA and therefore this procedure is now closed."
Any ban for violent conduct, which could have seen Suarez miss the rest of the South American qualifiers, would have extended his absence from competitive football, after he received a 10-match club ban for biting Chelsea defender Branislav Ivanovic which will keep him out of action until September.
The ban represents the second substantial punishment handed to Suarez during his career in English football, after he was given an eight-game ban for racially abusing Patrice Evra in October 2011.
It has been widely suggested that Suarez could abandon Liverpool this summer in an attempt to distance himself from his controversial spell in English football.
The likes of Juventus and Bayern Munich have been linked with a move for Liverpool's top scorer, however Atletico Madrid boss Diego Simeone, whose club have also been mentioned as potential suitors for the ex-Ajax forward, has spoken highly of Suarez.
"I cannot speak badly about Luis Suarez, he is extraordinary," Simeone said.
"But we have a game coming up that means we have to leave other matters aside."