Luis Suarez has revealed the lack of Champions League football at Liverpool has had a big influence on his desire to leave Anfield. The 26-year-old Uruguay international has publicly courted Real Madrid and Arsenal this summer, following a bitter fall-out with the British press.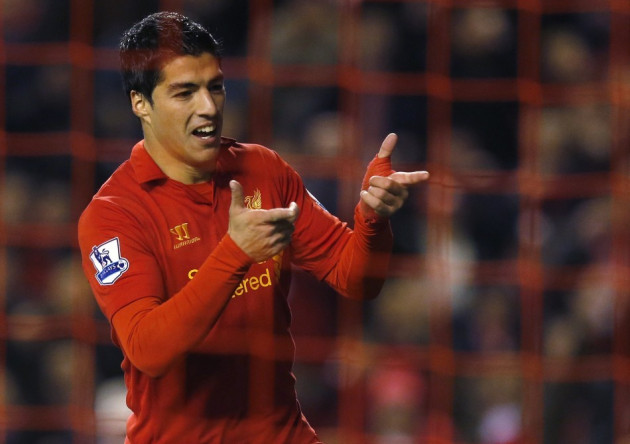 The former Ajax forward set the ball rolling in May, when he said he was "not prepared to continue suffering at the hands of the English journalists". Speaking to a hometown radio station, Radio Sport 890, Suarez also said "My family have suffered and things have gone beyond the limits".
Suarez single-handedly ensured a seventh place finish in the Premier League last season, scoring 23 goals from 33 starts. Unfortunately, his enormously impressive season was curtailed after he bit Chelsea defender Branislav Ivanovic on the arm during a league match at Anfield.
The immediate and extremely critical media backlash led to all the transfer talk, with Suarez stopping only short of a formal transfer request. However, he did say he would study any transfer bid that helped his career progress.
"I always want to improve. That's why I left Ajax for Liverpool. This club needs to fight to enter the Champions League and, when it doesn't happen, it damages the morale of any player. So I've suffered. It is hard to view the Premier League every week with never a chance of winning it," the striker explained.
"The English media do not understand me. The controversies with Evra [Suarez was found guilty of racially abusing Manchester United left-back Patrice Evra] and Ivanovic were decisive. After the Evra incident, it was very difficult to convince people about the 'real' Luis Suarez," he continued.
"Things improved but then the incident involving Ivanovic was another blow. Had that not happened, perhaps I would have been regarded as the best Premier League player last season," Suarez concluded.
Nine-time European champions Madrid and the Gunners have both been linked with big money bids; Spanish publication Marca claims the Santiago Bernabeu side will bid in excess of €45m for the striker and Arsene Wenger has had a €30m bid turned down.
Sky Sports believes Chelsea, under new boss Jose Mourinho, are also interested in the player.
Finally, Suarez has also insisted that while he is upset with the British media, he remains on good terms with his manager, Brendan Rodgers, and the Liverpool fans, who, he said, "have been the best part of my time in England".