A bunch of photos for the sequel to the Lumia 1320 large-screen smartphone have surfaced via leaks.
Over the past few weeks there have been several reports suggesting the hardware features of the new Lumia smartphone, which is widely known as Lumia 1330. The device has now been caught in the wild, which again confirms that the Lumia 1330 is a real deal.
Chinese site Baidu, which is a credible source and has shared a lot of information related to Lumia devices, has posted a couple of photos, which it claimed to be of the Lumia 1330 (check the above photos).
One photo shows the back cover of the device with Microsoft branding and another shows Lumia 535 placed inside the cover of the alleged Lumia 1330, indicating that Microsoft's new Lumia addition will be a large screen device.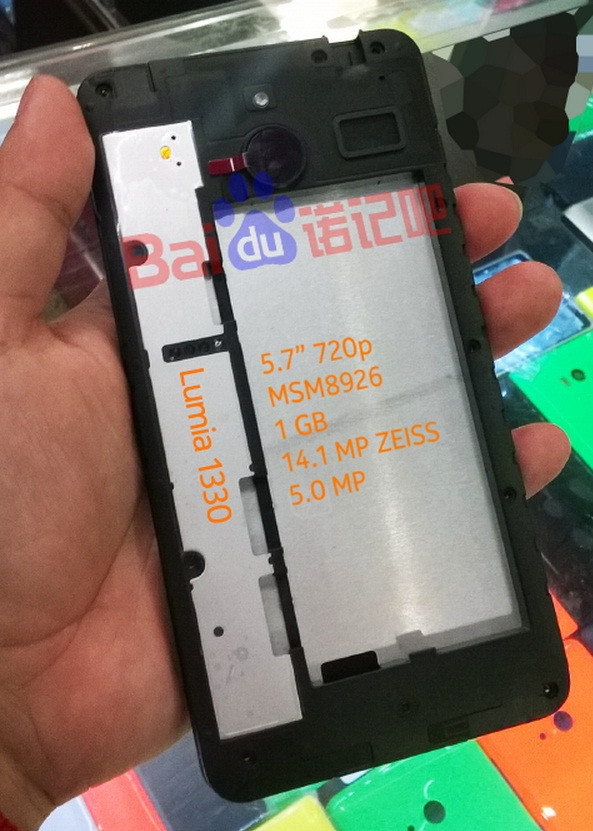 Earlier this week, the same site published a photo of Lumia 1330, which confirms the name and a few tech specs of the smartphone. All the specs match with the previously rumoured ones, which include a 5.7in 720p screen, Snapdragon MSM8926 (Snapdragon 400) chip, 14.1 megapixel rear camera and 5.0 selfie camera. Meanwhile, the dual-SIM variant of Lumia 1330 bearing model number RM-1067 has received certification in Indonesia.
The series of leaks suggests that Microsoft might make an announcement about the Lumia 1330 at this year's Mobile World Congress event.