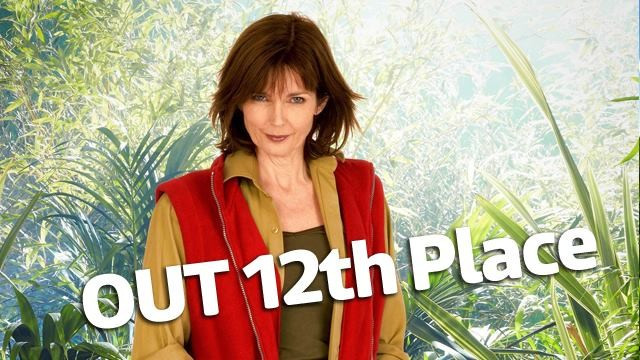 Annabel Giles is the first celebrity to be booted out of the I'm a Celebrity jungle.
For ten days the former model faced her fears, enduring a night in the Outback Factory in the company of rats, surviving the onslaught of bugs in the Roach Hotel, and gulping mealworm milkshake in a gut-churning bushtucker face-off with Strictly Come Dancing star, Vincent Simone.
Making her way out of camp, Giles told Geordie host Ant and Dec :"I feel a bit like the most unpopular girl in the school, but you know, maybe I am. I am first out aren't I. Someone's got to do it and it might as well be me."
Earlier, the 48-year-old had a meltdown in the middle of the jungle, as she anticipated the bushtucker trial which would win stars for camp and possible immunity from eviction.
Despite receiving words of encouragement from her campmates, the wide-eyed star whimpered and shook with fear as she entered the Critters Crates.
"I'm not bothered about the immunity at all," she explained. "I'm scared of the trial. Each one is more scary than the one before."
Stood in the confined space, covered in critters, Giles screamed hysterically as she attempted to release the stars and padlocks in a bid to free herself.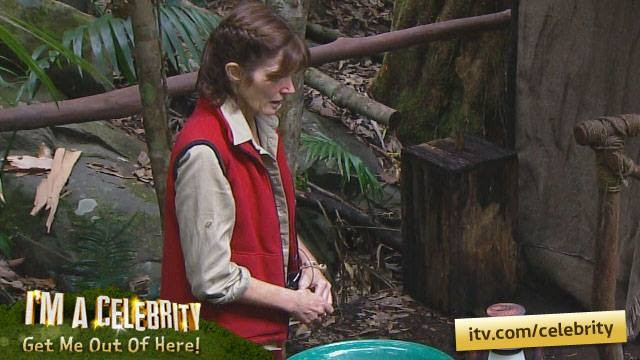 "It's a lot harder than you think," she added. "It's really quite tough. I always thought the bloody celebrities were just moaning away, but it really is quite hard.
"I think to say I'm a Celebrity Get Me Out of here is a bit cowardly isn't it. And for me the personal goal was to just stay there."
Matthew Wright and Alfonso Ribeiro made their way out of the crates within the allotted five minutes, winning a total of three stars for camp.
After making her exit from the camp, Ant and Dec pulled Giles up on her strained relationship towards Amy Willerton. The TV host has been seen to be sniping about Willerton incessantly, along with many of the other celebrities.
"I'm onto her," explained Giles. "I don't know if you know she carries a massive hand bag around with her which we all suspect is full of things we're not supposed to have cosmetics and stuff, but also the various manipulations."
"We're all of the same feeling. So I've decided to sacrifice myself on the alter of truth and integrity," she added.
The women in the camp, particularly Giles, Lucy Pargeter and Laila Morse, have been vocal in their criticism of Willerton, with the men suspecting it has much to do with their evny over her looks.
"I've had so many snappy comments from her (Giles) I just ignore her now," said Willerton.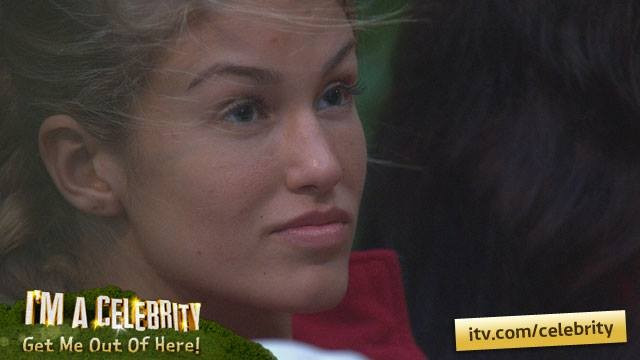 On their last night together, the camp engaged in a very un-British display of emotion as they shared their impressions of one another.
"I didn't know who the f*** you were, but you're alright I suppose," Morse told Willerton, unapologetically.
Pargeter imparted words of unsolicited advice to Willerton saying: "I just want you to be true to who you are and not get lost in the game you are about to get into. This (Looks) aren't everything. This ( The heart) is and I don't want you to lose this. (The heart.)
Giles meanwhile, lavished praise on the Miss Universe GB saying: "You're gorgeous. Here's all of us looking grungy and there you are sitting on a log looking gorgeous. A vision.You should win every competition."
Once married to Ultravox singer, Midge Ure, Giles recently said she had "sworn off men" and is reportedly now in a relationship with a woman.
I'm A Celebrity continues on ITV1 at 9pm on December 2.