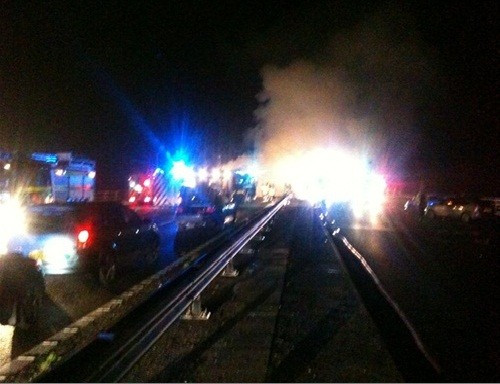 A teenage girl who survived the terrible M5 crash on Nov. 5 but has been in a coma since has woken up.
Now she faces the crushing news that her father and sister perished in the 34-car motorway pile-up in Somerset that claimed seven lives and injured 51.
Emma Barton, 19, from Windsor, has been unconscious at a Taunton hospital ever since the crash.
Her father Michael, 67, and sister Maggie, 30, died on their way back from a funeral when the car they were in, driven by Emma's fiancé Chris Burbull, 23, was caught up in one of Britain's biggest road accidents.
Chris kept a bedside vigil with Emma until she woke up.
"Emma is doing fine and is recovering," a family friend told The Mirror.
Police are investigating what caused the huge crash.
They're looking into whether smoke from a nearby fireworks event at a rugby club contributed to the accident.
Huge fireballs and explosions rocked the scene in the minutes after the crashes, leaving passers-by shocked at the carnage they were witnessing.
Other victims of the crash include father-of-five and lorry driver Terry Brice, 55, Malcolm Beacham, 46, a truck driver, and retired couple Pamela and Anthony Adams, from Newport.
Tributes were left at the scene.
"Nanna and granddad, you will always be in our hearts, thoughts and prayers. Always remembered, never forgotten," read one.
An inquest into the deaths of the crash victims opened on Nov. 10, though Transport Secretary Justine Greening told Parliament it could be "weeks" before the cause is known.