Apple has announced the 13in MacBook Pro with Retina screen and ultra-thin design, doing away with a conventional hard disk and optical drive, much like the 15in model.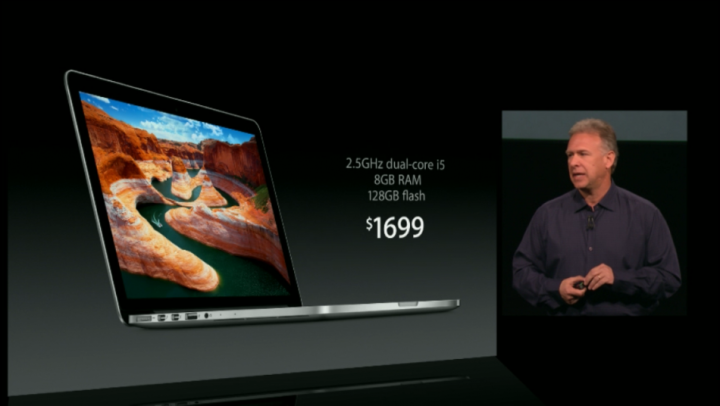 Following in the footsteps of the 15in model, the MacBook Pro 13in Retina features a slimmed-down all-aluminium chassis, traditional Apple 'chiclet' keyboard, large glass trackpad and, of course, the Retina display with a resolution of 2560 x 1600, four times more than the previous generation.
The laptop is 20 percent thinner than the regular 13in MacBook Pro, and offers a battery life of up to seven hours.
First seen on the iPhone 4 in 2010, the Retina moniker is used by Apple to describe a display that has such a high pixel density that each one cannot be seen with the naked eye.
The new MacBook Pro gets Intel i5 and i7 processors with up to 8GB of RAM and up to 768GB of flash storage.
The base model has a 2.5 GHz processor with 128GB of flash storage and 8GB of RAM, and will cost £1,449, going on sale in the UK today.
We reviewed the 15in MacBook Pro Retina back in August and said at the time it was one of the very best laptops on the market, although its £1,700 price point is a stretch for most, so starting at just under £1500, the 13in model may well tempt users to upgrade from the regular line of MacBook Pros.
The screen boasts 75 percent less reflection than the previous generation, and Apple claims it is the second highest resolution of any notebook - behind, of course the 15in model.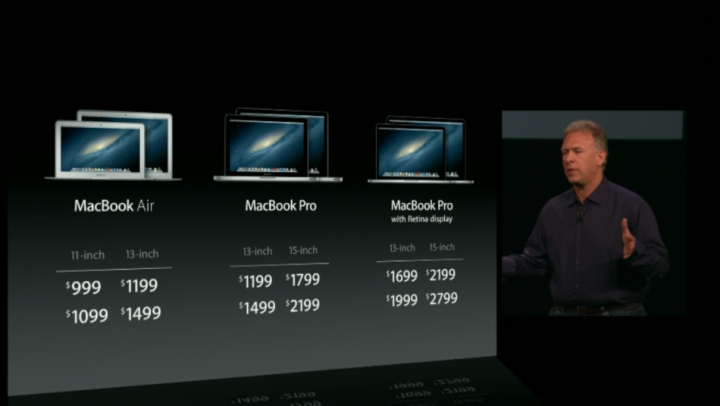 "The 13-inch MacBook Pro is our most popular Mac, and today it gets completely reinvented with a new thin and light design, fast flash storage and a gorgeous Retina display," said Philip Schiller, Apple's senior vice president of Worldwide Marketing. "With vivid colours, razor sharp text and more pixels than anyone else's 15 or 17-inch notebooks, the Retina display completely changes what you expect from a notebook."
The new laptop features a 2.5 GHz Intel Core i5 processors with the option to choose faster 2.9 GHz Intel Core i7 processors, Intel HD Graphics 4000, 8GB of 1600 MHz memory, and up to 768GB of flash storage.
Two Thunderbolt and two USB 3.0 ports allow users to connect to multiple displays and high-performance devices, and a new HDMI port offers quick connectivity to an HDTV. The 13-inch MacBook Pro with Retina display also features a FaceTime HD camera, dual microphones, improved speakers, three-stream 802.11n Wi-Fi, Bluetooth 4.0, and a MagSafe 2 power port.
Phil Schiller said: "This 13 in notebook has more pixels than any competitive 15 or even 17in notebooks."
Must Read: