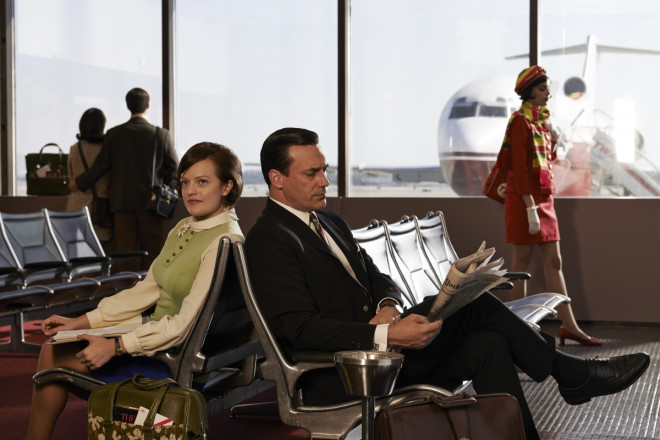 Mad Men Season 7 premiere episode will air tonight and fans cannot be happier. The popular show will be returning to AMC with its new episode titled, Time Zones.
Based on stills released by AMC, it looks like there will be a considerable amount of travelling involved for the characters, reports Christian Today.
"The theme of the new season is 'evolution' and will see the characters exploring new realms in their business and personal lives, grappling with the new challenges their season six decisions created," states the report.
Season 6 of the Mad Men did not end very well for Don Draper as he loses his wife and job and confesses that his life is a complex charade.
The final season of the show will reveal how Draper, whose real name on the show is gradually disclosed to be Richard 'Dick' Whitman, moves on from his many losses.
The official synopsis for Time Zones reads as follows:
"Don makes a friend; Joan has drinks with a client; Roger receives a perplexing phone call; Peggy hears new work."
The '60s-set drama's last 14-episode season is being divided into two segments. The first seven-part run starting April 13 is titled 'The Beginning' and the second half titled 'The End of an Era' will release in 2015, reports DigitalSpy.
In the US, the Mad Men Season 7 premiere episode will air on AMC tonight, Sunday, April 13 at 10pm ET.
In the UK, the latest season will start airing on Sky Atlantic from Wednesday, April 16 at 10pm.
Click here to watch the episode online via live stream on AMC.
See a preview trailer for Mad Men Season 7 premiere below: