Madonna and former husband Guy Ritchie are embroiled in a battle over their son Rocco, after the teenager refused to return from London to the US to live with his mother. The pop star appeared in Manhattan Supreme Court on Wednesday (23 December) morning, to ask Justice Deborah Kaplan to force her ex-husband to send their 15-year-old son to New York.
Rocco had reportedly informed his mother that he would prefer to stay in the UK with his father. A lawyer representing Mr Ritchie stated that the teen "has expressed very clearly that he does not want to return to New York," the New York Daily News reported. When asked by the judge whether Ritchie, 47, has prevented his son from returning to the US, the director's lawyer, Eric Buckley, replied: "Effectively yes."
Justice Kaplan ruled that Rocco Ritchie must return to New York and discuss the matter with his mother before deciding which parent he would prefer to live with in the long term. "I'm directing the child to be returned to New York," Kaplan told the singer. "If he wants to stay with his father, he must return to his mother."
If a full custody case ensues, the 15-year-old will be given his own court-appointed attorney, Justice Kaplan decreed.
Madonna and Ritchie tied the knot in 2000 and divorced in 2008. After the split the pair were in talks over who should retain custody of son Rocco, eight, and their adopted three-year-old David Banda. In 2009, Madonna won a legal battle with Ritchie to take their children back to the U.S. The film director was said to be desperate for Rocco to be brought up and educated in Britain.
The 57-year-old also has two other children, Lourdes Leon, 19, and Mercy James, 9, who was also adopted.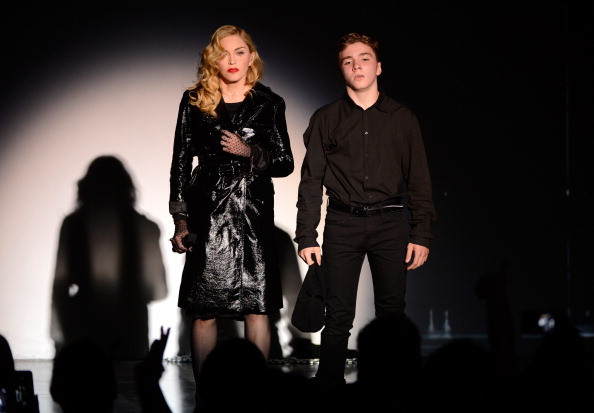 Madonna recently spent Thanksgiving with both her sons Rocco and David in Barcelona, Spain, where she hosted a dinner for about 70 guests after performing two concerts at Palau Sant Jordi arena.
Earlier this year, she told Entertainment Weekly that Rocco, then 14, was coming with her on her Rebel Heart tour. She said: "I think he's probably gonna work behind the scenes. He's not interested in performing on stage with me right now. There's way cooler things. Your mom is not that cool when you're 14," she added.
In 2014, the star defended her son after he sparked outrage after posting explicit footage of terrorists executing people on his Instagram page. "I applaud my Sons desire to express his outrage by posting footage of ISIS on instagram. Humans are becoming numb to this violent imagery. He is saying our problems are nothing compared to whats going on around the world. Freedom Fighting is in his blood. Lets pray for PEACE! #rebelheart#livingforlove," she wrote.
The Rebel Heart tour comes to an end in March in Brisbane, Australia.