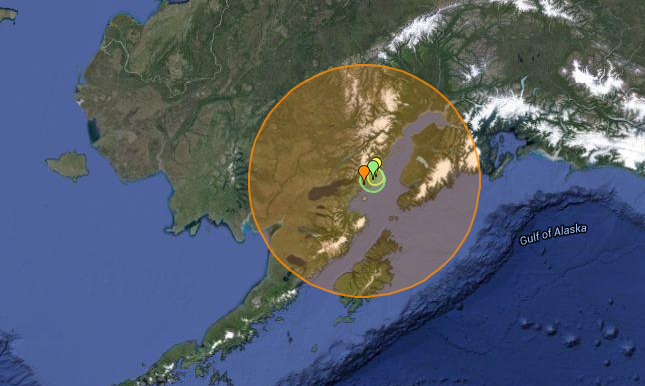 Tremors from a 7.3 magnitude quake were felt more than 170 miles (280km) away in Alaska's biggest city Anchorage. The earthquake struck on Sunday, 24 January, 30 miles east-southeast of Pedro Bay on the shore of Iliamna Lake, according to the United States Geological Survey (USGS). The quake's epicentre struck near Cook Inlet, about 162 miles southwest of Anchorage, and was about 50 miles deep.
There were no immediate reports of fatalities or casualties although social media users gave accounts of vigorous shaking. "Long and pretty strong earthquake and power out in West Anchorage," tweeted David Hulen.
The Pacific Tsunami Warning Centre stated it was not expecting a destructive tsunami and that there was no threat to Hawaii from the earthquake, according to a Reuters report.
The earthquake caused power outages in Anchorage, according to utility and media reports. At least 10,000 customers were without electricity in the area, utilities reported.
On its Facebook page the Matanuska Electric Association posted: "The 7.1m earthquake at 1:30am caused several outages including our entire Douglass substation in Willow and Hospital substation impacting portions of Palmer and Wasilla. Crews have been called in from home to assess the situation and restore power."
The 1964 Alaskan earthquake, also known as the Great Alaskan earthquake and Good Friday earthquake, happened on Good Friday, 27 March. Across south-central Alaska, ground fissures, collapsing structures, and tsunamis resulting from the earthquake caused about 139 deaths.
Lasting four minutes and thirty-eight seconds, the magnitude 9.2 megathrust earthquake was the most powerful recorded in North American history, and the second most powerful recorded in world history.