US President Donald Trump's stand-off with the media went a step ahead this week after major news channels in the country refused to air an advertisement promoting the work he accomplished during his first 100 days in office. According to Variety, CNN, ABC, CBS and NBC took offence to a clip in the video that features images of their star news anchors with a large "FAKE NEWS" stamp across.
The image shows CNN's Wolf Blitzer, MSNBC's Andrea Mitchell and Rachel Maddow, ABC's George Stephanopoulos and CBS's Scott Pelley with the superimposed message.
CNN was the first to take offence to the material and said they would not air it on their network. "CNN requested that the advertiser remove the false graphic that the mainstream media is 'fake news,'" the network said in a statement on 2 May. "The mainstream media is not fake news, and therefore the ad is false and per policy will be accepted only if that graphic is deleted."
ABC, CBS and NBC followed suit, explaining that the commercial was inaccurate. "We rejected the ad because it did not meet our guidelines," ABC said in a statement while NBC, like CNN, said they would air it if the required changes were made.
"Consistent with our policies, we have agreed to accept the ad if the inaccurate graphic — which refers to journalists as 'fake news' — is corrected," the network said in its statement. CBS declined to comment on its reasons.
The advertisement did get air time on the Fox Business Network and Fox News Channel, which Trump has often praised.
The refusal from the other networks did not go down well with the Trump campaign, with the president's daughter-in-law and campaign consultant Lara Trump describing it as an attack on the right to free speech.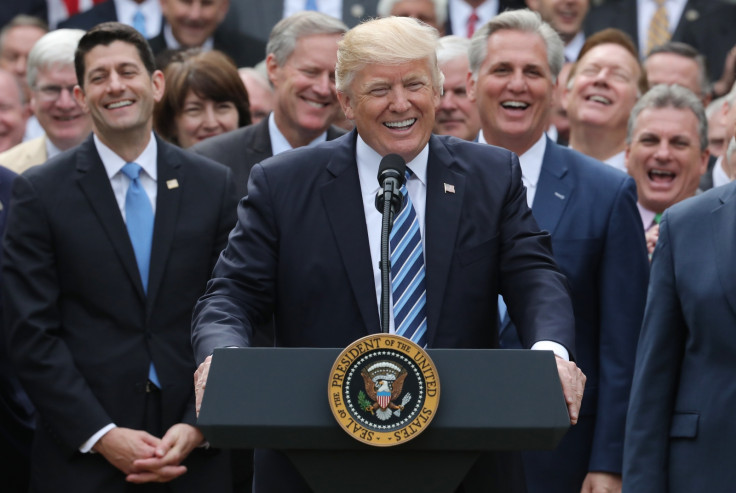 "All of the mainstream media television networks have decided to block the paid placement of a campaign ad that celebrates the achievements of President Trump in his first 100 days in office," she said in a statement on 5 May. "Apparently, the mainstream media are champions of the First Amendment only when it serves their own political views. Faced with an ad that doesn't fit their biased narrative, CNN, ABC, CBS, and NBC have now all chosen to block our ad. This is an unprecedented act of censorship in America that should concern every freedom-loving citizen."
Lara, the wife of Eric Trump, praised Fox while slamming the other networks during an appearance on Fox News' Hannity on Thursday. "There are certain networks, the majority of the mainstream media throughout the country that refuse to report the facts," she told host Sean Hannity. "It's a great ad and it highlights all the wonderful things that have happened that you don't hear about everyday because some people don't watch Fox News. If you don't watch Fox, you probably aren't hearing all the great things the president has done."