Stephen Colbert is not the kind of man who would back away from a war of words, so it comes as no surprise that The Late Show host defended his 1 May monologue slandering US President Donald Trump.
"Welcome to The Late Show. I'm your host, Stephen Colbert," he started off, according to the CBS transcript. "Still? I am still the host? I'm still the host!
"Now, if you saw my monologue Monologue , you know that I was a little upset at Donald Trump for insulting a friend of mine," he continued. "So at the end of that monologue I had a few choice insults for the president in return."
The 52-year-old's address fell short of an apology, instead Colbert said if he had the chance, he would do it all over again but with some changes to the script.
"I would change a few words that were cruder than they needed to be," he told his audience.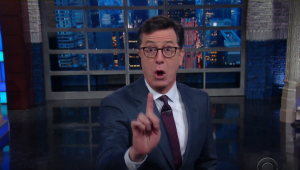 "I had a few choice insults for the president... I don't regret that. He, I believe, can take care of himself. I have jokes; he has the launch codes. So, it's a fair fight."
In his show's Monday monologue, Colbert attacked Trump, describing his as "the Blotus", "glutton with the button" and most savagely, telling the president that all his "mouth is good for is being Vladimir Putin's c**k holster". The insults were triggered by comments Trump made against Face Of The Nation host John Dickerson during an earlier interview.
Watch Colbert's 1 May monologue in full, below:
Colbert's remarks kindled a Twitter fire, with Trump supporters calling for his resignation and urging sponsors to pull out of the show. Overnight, the hashtag #FireColbert started trending online with many criticising the liberal media's decision to turn a deaf ear to the insults against their president.
The whole incident does not seem to have affected the host's momentum though. He announced a special Daily Show reunion was set to take place on a special episode of The Late Show on 9 May.
To celebrate 20 years since he first started working with the John Stewart-led show, Colbert plans to bring the whole team back together. Along with his former boss Stewart, the episode will also see Samantha Bee, John Oliver, Ed Helms, and Rob Corddry join as guests.