How to Build a Successful Game App for iPhone, Android, Windows and BlackBerry
Ever wondered what it takes to build a successful iPhone, Android, Windows or BlackBerry game app?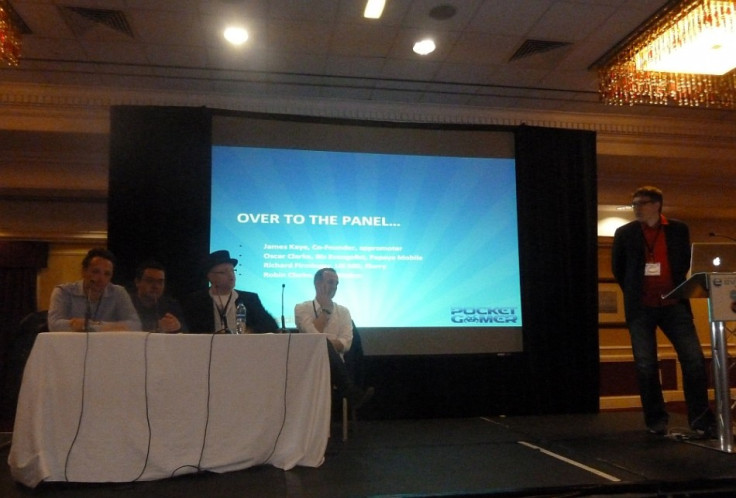 A round table discussion at the Develop in Brighton 2012 conference tackled the subject: In a World Filled With Mobile Games, How do You Make Yours Stand Out?
The panel included Richard Firminger, UK MD of Flurry; Oscar Clarke, business evangelist at Papaya Mobile; Robin Clarke, digital marketing manager at AppyNation; and James Kaye, co-founder of Appromoter.
Chris James, MD at Steel Media - which publishes Pocket Gamer - chaired the debate and began by noting that with over seven hundred million smartphones in the world, the platform dwarfs the user base of any games console.
By combining figures from all parties James estimated that 50 billion apps have been downloaded so far, with 30 billion of those coming from Apple. Apple reportedly pays out around $1bn (£645m) a quarter to developers but it was another figure that was bugging the Steel Media MD.
"People keep coming to me with this figure that 90 percent of apps make less than $1,000. I've been searching very avidly to try and find some sort of factual backing for that but it seems to be a rumour," James said.
True or not, it is clear that many app developers are squandering their chance to cash in once the app is finally released. Below are the panel's top tips to to make a successful game app for iPhone, Android, Windows and BlackBerry smartphones.
Quality Will Win Out
"There isn't a magic bullet. I see a huge amount of apps and I see what rises to the top is a quality game. The old days, when I used to work for Vodafone, T-Mobile and for Orange doing games marketing where you could slap a big brand on a J2ME game and get it placed are gone. Increasingly it is quality and significant production values that win out," said Kaye.
Write a Marketing Plan
"I'm amazed by the sheer amount of developers that I encounter that have no marketing budget and no strategy. As I tirelessly say in the words of Rudy Giuliani, 'Hope is not a strategy.' You cannot spend £30,000 or £40,000 developing an app and stick it out there and hope it is going to succeed. There has to be some thought afterwards on the part of everyone as to what you are going to do to give yourself the best possible chance of getting noticed," Kaye said.
"An awful lot of developers come to our store going in blind. They don't understand the expectations of the market, what people are looking for and what's coming out - not what's playing in the chart at the moment. Just get that straight in your head and focus on product quality and marketing," added AppyNation's Clarke.
Beware of Suspicious Marketing Promises
"Automated downloads are a concern for everyone. They are a concern if you unwittingly engage in that practice through a provider without realising that is what they are doing. One way to tell is if they talk about any kind of guarantee as that should set an alarm bell ringing. If anyone comes to you saying that they can guarantee a chart position in any market, in any store anywhere around the world, typically no specific source of traffic will have enough to do that so they have to use some sort of illigitimate meansm," Firminger warns.
"And then the price you might pay if you are high profile enough and Apple discovers that you are party to that program is pretty dramatic. Getting banned from the Apple store should be a mobile developers worst nightmare."
Will Incentivised Downloads Help or Harm Your App?
"I spoke to the MD of the leading mobile planning and buying agency about this and he was really against incentivised downloads artificially moving apps up the chart for quite simple reasons. He said you end up putting an app in front of people, sometimes in other apps that are not targetted correctly and have the totally wrong demographic. These are not the people you are going after and they often get a reward for downloading the app and then what happens is they will open it and say, 'This is crap! I'm going to give it a one-star review and tell everyone.' We are in a reviews-led culture here and much more than Amazon the app store exemplifies that culture. What you end up doing is killing your app at birth. If it is bad and targetted at the wrong people you end up getting a lot of one and two-star reviews and people see them and there's no benefit," Firminger warned.
Target Your Campaigns
"If your game is high quality and you manage to generate awareness for downloads and you get the organic lift of rising up the charts, then all of those things can collide to be a magic bullet of some kind. Doing your promotions altogether is a good idea. If your intent is to get up the charts then an intense level of activity all in one day is best," advised Firminger.
Free Apps Reach the Widest Audience
"If you want a niche cottage industry where you have got a very controlled small number of users that are willing to pay, then go for paid apps. For everyone else who wants to scale their business and really make their mark in the mobile games industry then free-to-play is the way to go," Firminger said.
"Developers need to recognise how much of a barrier a paid app is because you are excluding so much of your audience," added Papaya Mobile's Clarke.
Don't Waste Money Advertising Paid-for Apps
"Let's be clear, you can't promote a paid app through advertising. It is virtually impossible. Most ad networks can drive impressions but they will quickly stop because no-one is downloading. Typically a user will go to the store, realise it is a paid-for game and come away. So advertising and paid apps do not mix," Firminger said.
Choose Your Words Carefully
"The first two lines of copy are so important. People forget you have got the 'More' button so you have got to choose really carefully what you put on those two lines. I've read quite nervy articles about word wrap on different platforms and how to optimise it so it wraps correctly on those different devices. You get a lot of Eastern European developers - through no fault of their own because English isn't their first language - and they are pitching to large English speaking audiences and if the quality of their copy isn't good they can be dead in the water immediately," Kaye said.
Don't Forget the Icon
"The icon for the next game we have coming out has been through 50 iterations so far and its going to get a lot more before launch as well," AppyNation's Clarke revealed.
"The icon alone can take a painstaking amount of hours to produce. We got a quote recently from a top icon developer, one of the best you have ever seen, who asked for eight days' work at £600 a day just to develop an amazing icon," said Kaye.
Choose the Right Category
There are many categories out there and it depends which one you are in. I've marketed a football information app in a sports category that can get into the top 10 fairly easily. So when people choose the categorisation of the app the very first business decision can lie right there. If you are going into the action category in games then you are in a very tough environment," said Appromoter's Kaye.
Constantly Update Your App Information
"When I worked at Three we learned that if you didn't change the deck every four hours, you got an audience who came back less than that. If you did it every week, they came back every week; if you did it every four hours, they came back every four hours. If you keep content that has been there for three to five years people are not going to come back to the app store and find your game at all. Those people out there making mobile apps, if you are relying on the app stores as your market you are absolutely going to fail because they are not on your side. They are on the side of making their job easier," Papaya Mobile's Clarke said.
Develop Your Customer Relations
"Lifetime value is more important because it's not just a one-night stand. You want the player to continue playing and playing and playing. And we don't just want them to necessarily play that one game. We want to be able to take them with us to enjoy the platform and the environment of the other games around. One of our games is X City and we did some stats recently where we worked out that 42 percent of players who paid money for virtual goods in X City paid money in more than one game. Seven percent of them had paid money in five or more games. That means we actually have to love our customer and care about them and have a long term relationship with them," Papaya Mobile's Clarke said.
Keep Users Interested
"The quality bar has gone up. You have got to make the best possible game you can. But that is just the start of the process and we are talking about services, where you have to engage the user as frequently as possible and give them reasons to want to come back and play. Eighty-five apps are downloaded by the average smartphone user and between five and 10 are used every week. Personally I think that is because the icon-based UI is rubbish but in this context you have got to get past that challenge."
"They have got to remember what your icon does, they have got to want to click on it and to want to spend time when they could be doing something more interesting. So what's going to make them press that icon? If you are not thinking about that more than you are thinking about tricking chart results with bots or something else, then you are really barking up the wrong tree," Papaya Mobile's Clarke said.
Monetise Free Apps Using More Than One Option
"We are not seeing a huge amount of revenue from advertising in the games that Papaya Mobile supports but we are seeing the vast majority of revenue coming from virtual goods," Clarke said.
Watch the File Size
"We don't see the uninstall rates and I don't know whether you can because uninstall doesn't actually ping anything else as it is a remote action. Flurry has a re-engagement product that enables you to define your lapsed audience and then try to reignite the relationship by advertising on networks saying, 'Come back to My Horse today because there is new content.' What we have found is that if they don't have the app installed we send them back to the Apple store - and that shows us there is a very high uninstall rate."
"Particularly where the apps are heavy because I guess as users when we reach our limit you then have apps ranked by file size. It becomes a choice of which ones are the heaviest that I can let go of first so I don't have to let go of the 40 I quite like that are light. My Horse is an example because it is incredibly good but it is also incredibly heavy. GT Racing is 0.5MB, which is enormous but it's a good game that's very rich. I deleted GT Racing last week because I had to make room for all the new ones I wanted to download," Firminger admitted.
Get Objective Feedback on Your Game
"We have worked extensively with developers where we have sat there and given them pages of feedback on an app from a very objective point of view. But I would actually cite one case where we had somebody ask us to market their app and we actually said, 'This is pants!' They wouldn't believe it so we took it to Pocket Gamer and someone very kindly looked at it and came back with comprehensive feedback and said, 'I would probably give this six out of 10.' We gave the entire feedback to the developer and they did nothing," said Kaye.
"In some cases you can't just use a sticking plaster solution. You have got to be ready to really tear out the guts of your app and maybe three months down the line make it something completely unrecognisable," AppyNation's Clarke suggested.
Must Read:
How to Build a Successful Facebook Game
Mobile App Market Still Party to 'Black Practices', Claim Industry Experts
E3 2012: The Top 10 Games [VIDEO]
© Copyright IBTimes 2023. All rights reserved.