Millions of people are facing hunger in Malawi where a severe drought has undermined this year's harvest for thousands of families. At least 2.8 million people, of whom 1.5 millions are children, are facing food shortage in the south-east African nation where the majority of the population lives by cultivating maize, a staple food in the country.
However, lack of rains have resulted in losses of crops making this year's harvest – which typically takes place in March and April – almost impossible for thousands of households.
As a result, at least 14 million people in Malawi and surrounding nations, where people mostly rely on agricultural practices for their survival, have been impacted by a severe drought exacerbated by the El Nino phenomenon, caused by warm water in the Pacific Ocean.
The Malawian government recently announced that the state-owned Admarc (Agricultural Development and Marketing Corporation) is importing 30,000 tonnes of maize from Zambia and another 50,000 tonnes from Tanzania. For a 50kg bag of maize sold by Aidmarc, people currently pay Malawian Kwacha (K) 120 (£0.11) per kg. However, maize not sold by Aidmarc currently costs K270 per kg, with prizes expected to increase.
NGOs such as World Vision are running programmes assisting thousands of people in sectors comprising health and nutrition by, among other things, delivering maize and oil to thousands of families on behalf of the World Food Programme (WFP).
WPF extended its food deliverance programme to April and said Malawi needs $38m (£27m) to help those affected by food insecurity. The organisation also said the number of people facing hunger is expected to increase in the upcoming months as food and cash stocks will diminish.
"The Government of Malawi has recently announced a contribution of 18,000 metric tons of maize from its Strategic Grain Reserves to help meet needs in addition to nearly 52,000 metric tons of maize given earlier," WFP said in a statement.
"Without additional contributions, cash distributions will have to be suspended in March, while food distributions will be drastically reduced or even discontinued by mid-April. Maize prices in Malawi are more than 60% above the three-year average for this time of the year – and up to 175% higher in some markets in the south - making it increasingly difficult for many people to access food."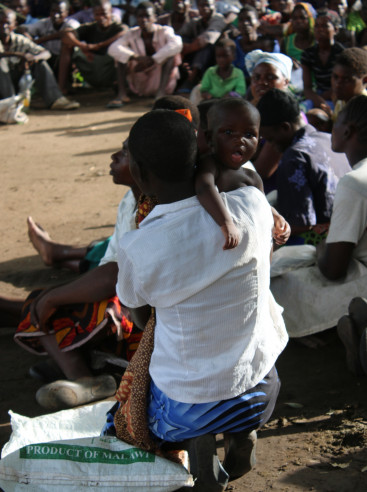 Stunting level to increase
Some Malawian mothers interviewed by IBTimes UK expressed concern over their children's health claiming that the food currently being delivered is not suitable for children and parents do not have money to buy other foods.
As a result, it is feared children will end up dying as they are currently refusing to eat. Level of stunting are also expected to increase in Malawi, where at least 1.4 million children are already malnourished.
A recent research by the Lilongwe University of Agriculture and Natural Resources (LUANAR) said Malawi spends K147 billion (£143m) yearly - 10.3% of its GDP - to treat malnourished children.
Budget cuts and '

cashgate

' scandal
Malawi's opposition criticised the government's proposal to decrease the budget by K23.7bn ( from K929bn to K906bn) arguing that the funds could be used to buy medicines and maize for people affected by the drought.
The government justified its decision by saying the country had failed to meet revenue targets for the first half of the year. British High Commissioner to Malawi Michael Nevin told Reuters the proposed budget cut was "a bold move" aimed to restore the economy of the southern African nation, which relies on aids for 40% of its budget.
Analysts have also warned that assistance to people who are facing hunger could be further undermined by the decision of Britain and other donours to cut aids to Malawi following a 2013 financial scandal.
The so-called "cashgate" scandal involved government officials siphoning money from state coffers. Although donors are still sending money to humanitarian organisations on the ground, some have pointed out that the aid freeze is undermining the country's response to the food crisis as well as construction of infrastructures, schools and hospitals.
Furthermore, reduction of exports due to the drought coupled with the aid suspension has led to the devaluation of the Kwacha.
---
IBTimes UK travelled to Malawi courtesy ofWorld Vision UK. Click here for more information about thecharity's work in Malawi.
---