In an incident that is bound to discourage black comedy, a passenger on the ill-fated Malaysia Airlines Flight MH17 joked about the flight on Facebook ahead of the flight's takeoff on Thursday morning.
Cor Pan posted a photo of a Malaysia Airlines plane with the caption: "If it disappears, this is what it looks like."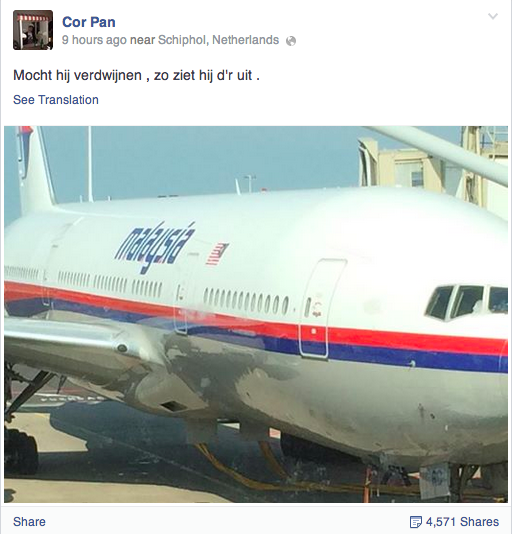 After news of the crash came in, Pan's joke turned out to be an awful prophecy in retrospect. His friends, who had initially wished him a good holiday and safe journey on Facebook, soon began panicking and posting to ask whether it was Cor's plane that had crashed.
Pan's post was made in apparent reference to Malaysia Airlines flight MH370 that went missing over the Indian Ocean about four months ago.
As further developments on the issue surfaced, Pan's post went viral on social media. Apart from receiving thousands of shares on Facebook, the picture, along with its caption, is also making the rounds on Reddit and other social media platforms.
Following the incident, a separate memorial page for Pan has been set up by his friends, wherein users are sharing even more pictures of the Dutch national.
Malaysia Airlines saw its shares plunge by about 18% on 18 July. The news comes after the company suffered two major aircraft disasters in four months. The crash even influenced most Asian markets, which went on to trade low on 18 June.
Even though several lives were sadly lost, many passengers who missed a seat on the MH17 flight are now thanking their stars for their good fortune. Read more about that here.