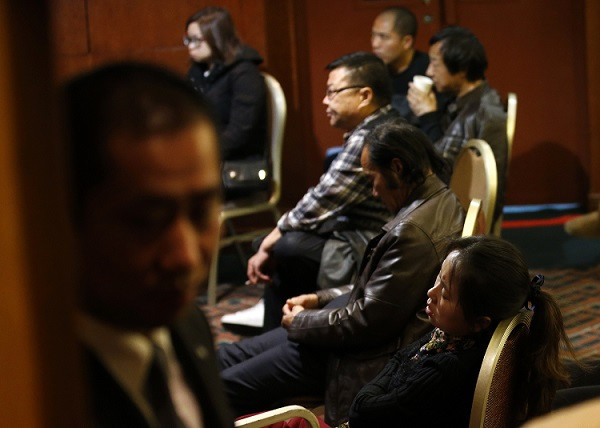 Families of the missing passengers on Malaysian flight MH370 have threatened to go on hunger strike in protest at the lack of information regarding the whereabouts of the plane, according to a report in The Guardian.
The Boeing 777 has been missing for 11 days now and the unprecedented search for the plane is still continuing since it disappeared less than one hour after taking off from Kuala Lumpur airport on its way to Beijing.
A total of 153 of the 239 people on board MH370 were Chinese. Now, many of the relatives of those Chinese passengers who are missing are threatening to go on hunger strike to emphasise their demands for more information from the Malaysian authorities.
"Now we have no news, and everyone is understandably worried," said Wen Wanchen, whose son is one of the people missing on board MH370.
"The relatives say they will go to the [Malaysian] embassy to find the ambassador. The Malaysian ambassador should be presenting himself here. But he's not. Relatives are very unsatisfied. So you hear them saying 'hunger strike'," he told AFP.
"Since they haven't given us the truth about those people's lives, all of us are protesting," a second unnamed woman added.
"All the relatives are facing mental breakdowns."
The news arrives as it was confirmed that checks into the background of all the Chinese nationals on board the plane have uncovered no links to terrorism.
China has also announced it has deployed 21 satellites to help with the search for the missing plane.
Officials said they believe the movement of the plane is still "consistent with deliberate action by someone on the plane".
According to reports, the aircraft's tracking device was deliberately switched off meaning it was able to travel almost undetected. It was last spotted by military radar at 02:15 over the Malacca Straits, but satellite communication at 08:11 showed the plane could have continued flying for a further seven hours from this point.
China is also searching land territory for any signs of the plane, while Australia and Indonesia are leading the search for the plane in the southern flight corridor from its last known position.
Australian officials described their search of a 600,000sq km area of the Indian Ocean as "not just a needle in a haystack, it's a haystack that gets bigger and shifts".