Malaysia Airlines MH17: Was Putin's Flight the Original Target of Missile Attack?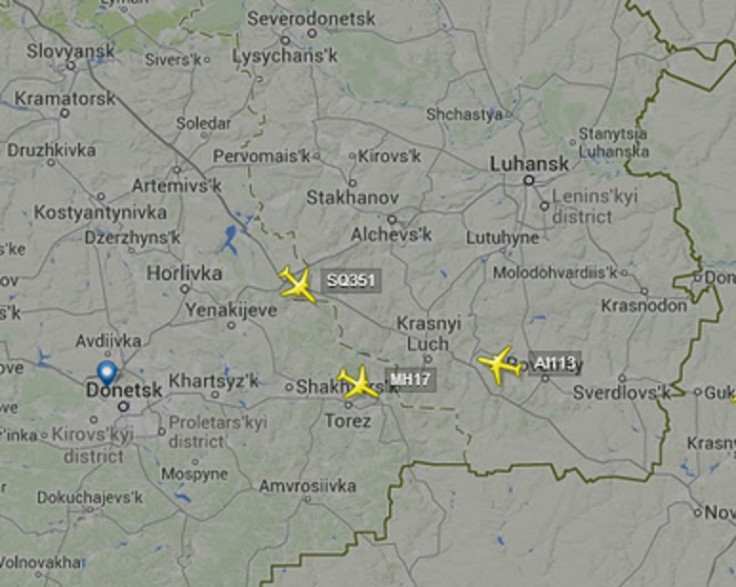 Russian President Vladimir Putin might have been the real target of the missile attack that brought down the Malaysia Airlines flight MH17 as it emerges that Putin's plane was in a similar flight path coinciding with the crash as he was returning from the Brics summit in Brazil.
Despite the speculation, it is unclear whether the plane carrying Putin would have entered the same airspace above conflict-torn eastern Ukraine where the Amsterdam-Kuala Lumpur flight was shot down.
"I can say that Putin's plane and the Malaysian Boeing intersected at the same point and the same echelon. That was close to Warsaw on 330-echelon at the height of 10,000 meters. The presidential jet was there at 16:21 Moscow time and the Malaysian aircraft 15:44 Moscow time," a source who has knowledge of the events told Russia's Interfax news agency.
"The contours of the aircraft are similar, linear dimensions are also very similar, as for the colouring, at a quite remote distance they are almost identical."
However, the speculation has been dismissed on the grounds that Putin does not usually fly any plane other than his Board One.
"Putin has only one jet – Board One, he does not fly other planes. This plane always takes off from Vnukovo-3, but the presidential plane has not been flying over Ukraine for a while," another source told the Gazeta.ru news portal.
All sides who are linked to the event – Ukrainian, Russian and pro-Russian rebels – have confirmed that the Malaysia Airlines jet with 298 people onboard was shot down by a BUK anti-aircraft missile, otherwise known as SA-17 Grizzly. All the three sides reportedly have BUK anti-aircraft missiles in their arsenal.
Narendra Modi's flight
Meanwhile, it has also emerged that Indian Prime Minister Narendra Modi would have flown over the same airspace nearly an hour after the Malaysia Airlines jet.
"There was no danger to the PM's plane, but obviously the area that they would have flown over would have been the same. The pilot would have to decide whether to divert over Russia or the Black sea instead," an aviation official told the Indian daily The Hindu on condition of anonymity.
Two other aircraft, one belonging to Singapore Airlines and the other to Air India, were also flying at close proximity to the crashed Malaysian jet.
The two planes were just 25kms apart, according to the 24-global flight tracking service Flightradar24.
© Copyright IBTimes 2023. All rights reserved.