The search for missing flight MH370 is causing some well-meaning helpers to make seriously misguided claims in the hope of solving the mystery.
A British woman thought she had found the missing plane after logging on to the Tomrod website to take part in a mass volunteer examination of satellite photos.
Natalie Eyre, 29, got excited when she spotted an object shaped like the missing jet in one image and alerted the website to tell them of her discovery.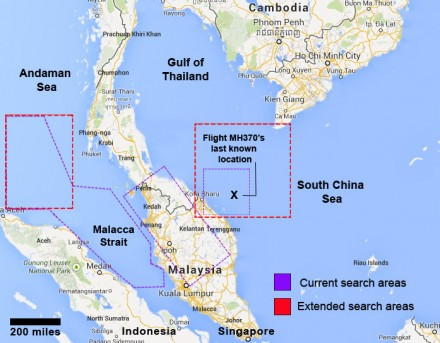 Eyre told The Mirror: "I just went, 'Oh my God, I think I've found the plane!"
The wings of the aircraft appear attached to the plane's body as it flew over the South China Sea.
That is in stark contrast to the search currently being conducted by a multinational task force focused on finding the jet.
Eyre contined: "I first heard about the website at 9.30am and looked at 867 images before I had a break.
"My partner thought I was mad, but I just had to go back and after looking through three more images I found this."
The search for flight MH370 continues.
Eyre was one of tens of thousands of people who logged on to the website tomrod.com which enables the vast 1,000 square mile search area to be searched by scanning satellite photographs.
FLIGHT MH370 FACTBOX
Flight MH370 took off from Kuala Lumpur International Airport en route to Beijing at 00:41 on Saturday 8 March (16:41 GMT Friday).
About 50 minutes later, the aircraft lost contact with air traffic control.
No distress call was made.
On board, there were 12 Malaysian crew members and 227 passengers from 14 countries. That included 153 Chinese and 38 Malaysians.
Two Iranian male passengers, Pouria Nour Mohammad Mahread and Delavar Syed Mohammad Reza, were travelling on fake passports. Neither had any apparent links to terrorist groups.
No debris from the plane has been found in the international search.
At least 10 countries, including China, the US and Singapore, were using a total of 42 ships and 39 aircraft to search for the missing plane in the South China Sea, the Malacca Strait and the Andaman Sea.