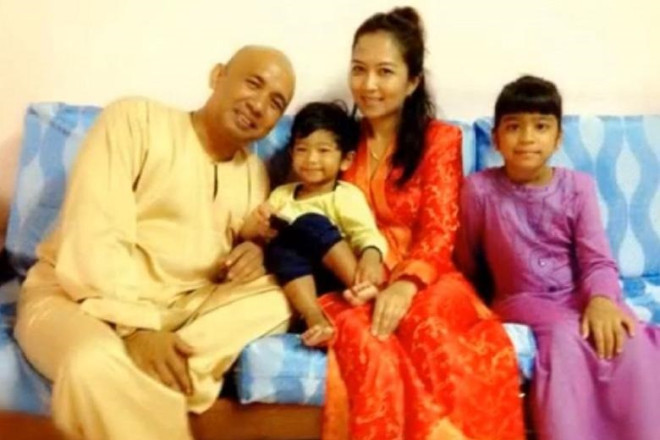 The estranged wife of pilot Zaharie Ahmed Shah will be interrogated as investigators' suspicions mount that he may have hijacked flight MH370.
Malaysian investigators have come under mounting pressure from the FBI to interview mother-of-three Faizah Khan, who is seen as holding vital clues and information about Shah's mental state.
The authorities said they had delayed questioning her because it was not appropriate for people in situations of "terrible bereavement [to face] the stress of intensive questioning".
One source said: "The whole world is looking for this missing plane and the person who arguably knows most about the state of mind of the man who captained the plane is being left alone."
Shah has become the primary focus after background checks concerning his co-pilot Fariq Abdul Hamid, 27, came up empty.
A source told Malaysia Chronicle: "There seems to be nothing in the life of Fariq Hamid to suggest a motive for hijacking.
"The personal life of Zaharie Shah, however, is far more complex and is in the process of being unravelled."
His background is coming under closer scrutiny after it emerged he supported the recently jailed political opposition leader Anwar Ibrahim and that his marriage seemed to be under strain.
He was no longer in a relationship with Faizah but they still lived together with their children.
The hard drive of his flight simulator seized from his home was being examined. It emerged that programmes on it were deleted and that he used it to practise extreme landings, including on remote Indian Ocean islands, such as the US air base in Diego Garcia.
Another development, reported in the Mail on Sunday, was that investigators were examining reports of a two-minute call from a mystery woman Shah received before the plane took off.
The mobile phone number was allegedly obtained under a false identity. The Sim card was said to have been trace to a number in Kuala Lumpur.
The timing of the call intensified scrutiny on Shah to establish whether missing MH370 flight was involved in a hijacking attempt or a catastrophic accident.
Malaysian police denied the claims saying the paper has not been privy to details of the investigation.
A police spokesman said: "The Inspector-General of Police has never issued any public statement that categorically place the MH370 investigation under an act of terrorism.
"Please be advised that the Royal Malaysia Police take no responsibility over the dissemination of such information, which originates from unnamed and unverified sources."
Floating debris discovered off the southern Indian Ocean could be recovered by an Australian ship within the next few hours.