Malta Prime Minister Joseph Muscat Says Mediterranean is Becoming 'Cemetery' as Another 50 Refugees Die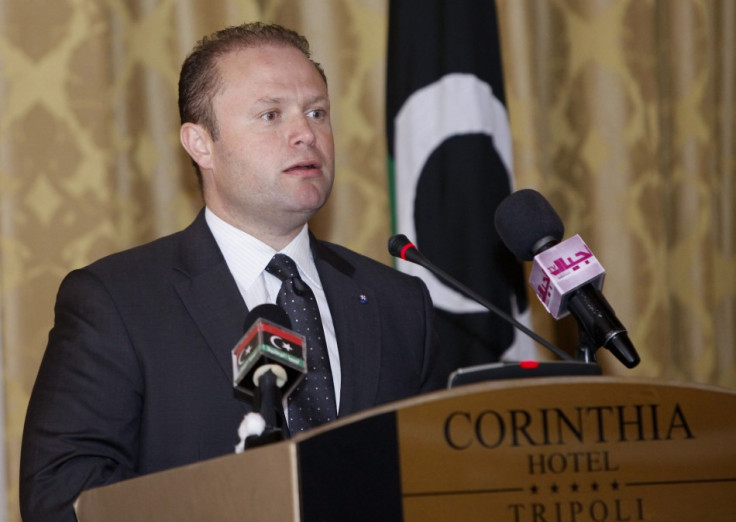 The prime minister of Malta has warned that the Mediterranean is being turned into a cemetery, after another 50 refugees died when their boat capsized off the Italian island of Lampedusa.
Joseph Muscat said that the EU must take urgent action to avoid more deaths, as people fleeing war-torn and drought-stricken areas of Africa and the Middle East attempt to make the perilous crossing to Europe.
"I don't know how many more people need to die at sea before something gets done," he said.
"Rules need to change, whether they are tighter or looser is not the issue, the fact is that this thing is broken and it needs to be fixed.
"As things stand we are building a cemetery within our Mediterranean sea."
On Friday, a boat carrying migrants mainly from Syria and Palestine capsized 70 miles (120km) from the Italian island of Lampedusa, which is nearer the African than the Sicilian coast.
Passengers reportedly contacted emergency services by satellite phone when the boat ran into trouble, and it capsized when they surged to the side of the craft, attempting to gain the attention of a passing plane.
Three young children are among the dead.
Today, the 147 rescued by Maltese boats arrived in the country. Another 56 people were picked up by Italian coastguards.
It came only a week after 358 people died when another boat crammed with refugees capsized off the island, with another 20 bodies pulled from the sea today.
Earlier on Friday, another 500 people were rescued from a boat near Sicily and 160 people pulled from the sea near the Egyptian port of Alexandria, with 12 dying when their boat was flooded.
The European Commission has urged the EU to set-up a European wide border control force that would patrol the Mediterranean for migrants' boats.
Increasing numbers of migrants are braving the sea crossing from Africa to Europe.
Between 1 January and 30 September this year, 30,100 migrants reached Italy on boats from North Africa, the UN's refugee agency UNHCR says. The biggest groups were from Syria (7,500 in total), Eritrea (7,500) and Somalia (3,000).
Muscat has warned that Malta risks being overwhelmed by refugees fleeing countries thrown into turmoil by the Arab Spring, with the number the country has to absorb equivalent to the UK having to take in 800,000 more immigrants annually, or Germany one million more.
© Copyright IBTimes 2023. All rights reserved.