Malta's Prime Minister has said he is having doubts on whether the UK will leave the European Union (EU) following the Brexit referendum last year.
Joseph Musca explained that his doubts are due to the fact people who voted in favour of the UK pulling out from the bloc are starting to reconsider their choice.
"For the first time, I am beginning to believe that Brexit won't happen," he said during an interview with Dutch newspaper De Volkskrant, according to AP.
The premier added he sees signs that British public opinion is changing. He added he hopes that politicians in the UK will call for a new referendum on the final Brexit deal.
"It would be good if a political leader in Great Britain would stand up with the courage to address this new situation and say: 'We will put the final Brexit deal to the people,'" Musca said.
Transitional period may last 'until 2022 '
His comments came just hours after UK Chancellor Philip Hammond suggested negotiations between EU and UK on the Brexit deal may last up to three years, after the UK officially leaves the EU in 2019.
"People have talked about a year, two years, maybe three years," he said. "I think there's a broad consensus this agreement has to be completed by the time of the scheduled next election in June 2022. So a maximum of three years," Hammond, a pro-remain, told BBC Radio 4's Today programme.
"We will have a transition period dictated by the technical necessities of implementing new systems," he added.
The comment came just a day after Home Secretary Amber Rudd asked the independent Migration Advisory Committee (MAC) to investigate the economic benefits of EU immigration to the UK.
The Conservatives said they would cut net migration to "tens of thousands".
Richard Tice, co-chair of the Leave Means Leave campaign, said people who voted leave should see a "clear vision for a post-Brexit EU migration policy", arguing that immigration was one of the most influential factors for those who voted in favour of Brexit.
"If freedom of movement for EU citizens continues, we could easily see another one million extra EU migrants move to Britain in a two year transition period. Our infrastructure, public services cannot cope with this and low paid workers don't deserve this," Tice said.
"Stalling on this is unfair on the British people who voted to take back control of their borders, businesses who want certainty and EU citizens who deserve to know how a post-Brexit British immigration system will work."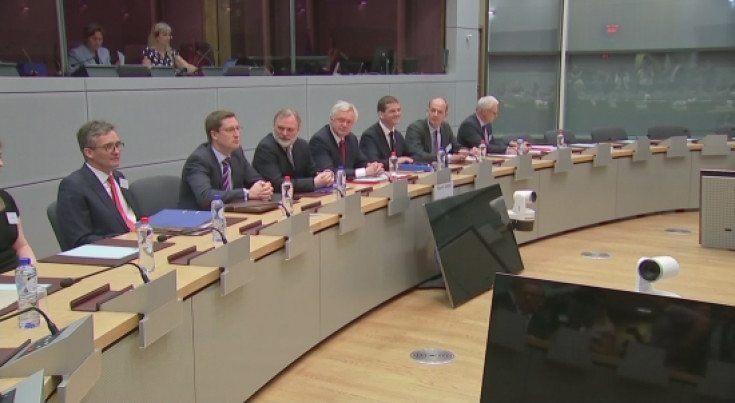 EU free movement to the UK is expected to continue during the Brexit transition period.
Earlier this month, multiple reports suggested that UK Prime Minister Theresa May's cabinet accepted such a compromise with Brussels, in order to avoid a so-called "cliff edge" for British businesses after the split in 2019.
"The Prime Minister emphasised her desire to listen to the views of business, to channel their experience and to share with them the government's vision for a successful Brexit and a country in which growth and opportunity is shared by everyone across the whole of the UK," a Number 10 spokesperson said.
"On Brexit, the Prime Minister reiterated that the Government's overarching goal is for a smooth, orderly exit culminating in a comprehensive free trade deal with the EU, with a period of implementation in order to avoid any cliff-edges."