US officials have arrested a man suspected of planning to kidnap one of President Barack Obama's pet dogs. Scott Stockert of Dickinson, North Dakota, was detained after being interviewed by Secret Service agents at a Washington hotel on 6 January.
Security officials were reportedly tipped off about his intention while he was travelling to the capital. The Obamas own a pair of Portuguese water dogs – Bo and Sunny.
The Associated Press news agency cited a court document as saying that Stockert carried an arsenal of weapons in his truck, including a shotgun, a rifle and a machete, but was not a registered gun owner. He was charged with violating District of Columbia laws on carrying a rifle or shotgun outside a home or business.
Outlandish claims
Stockert reportedly made several bizarre claims when interviewed by Secret Service agents, saying that he was "Jesus Christ" and that he came to Washington to run for president. He also claimed that his parents were former president John F Kennedy and actress Marilyn Monroe.
Stockert was released from custody on 8 January but was ordered to wear an ankle monitor. It is unclear why the man targeted the first family's pet dogs.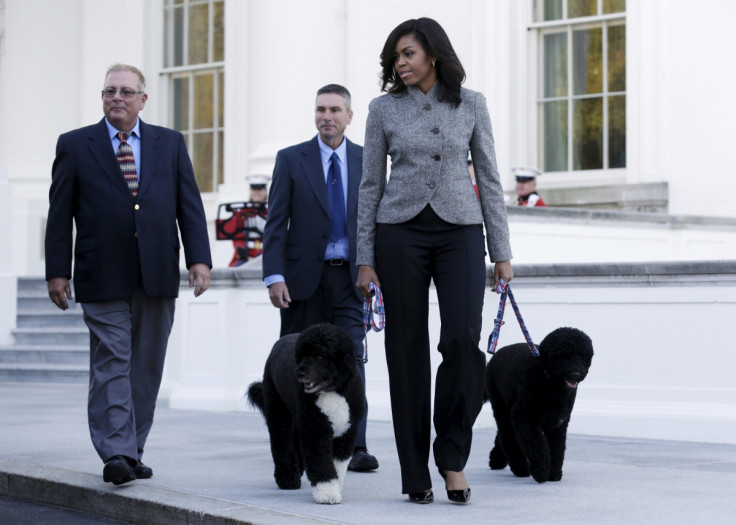 A spokesman for the US Attorney's office told Politico that a judge had barred him from being near the White House and the Capitol as well as possessing any real or imitation weapons during his release.
Bo, a male Portuguese water dog that was gifted to the Obamas by former Massachusetts Senator Ted Kennedy, moved in to the White House as a puppy in April 2009. He was joined in August 2013 by Sunny, a female dog of the same breed.
The Portuguese water dog is a relatively rare breed that originated in the Portuguese region of Algarve, from where it spread all around the Iberian coast. The Obamas chose the breed partly due to its hypoallergenic status.