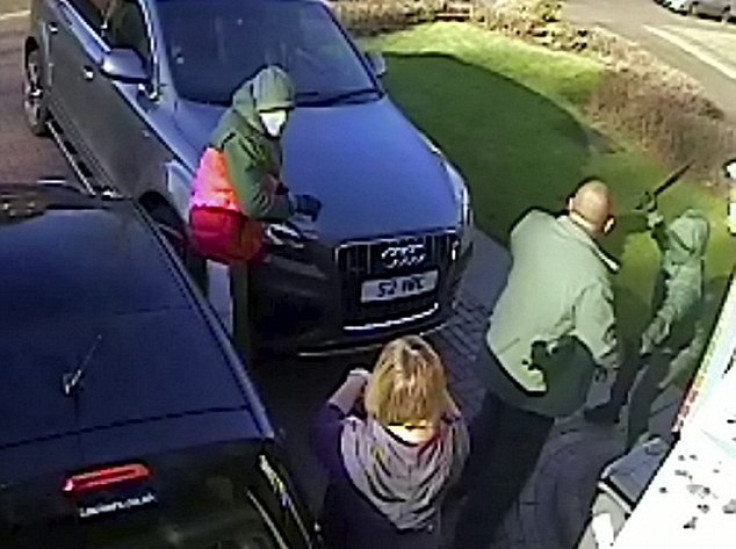 Police in Birmingham are hunting for two suspected carjackers after a man was brutally robbed of his Audi as he kissed his wife goodbye. The two masked men allegedly attacked Vince Cappellie with batons on his front driveway before he left for work one morning.
The thieves made off with his £50,000 Audi Q7 after chasing the security boss around his front garden in Stoneymore Drive, Castle Bromwich, West Midlands on 25 February at just after 9am. The pair launched a devastating attack on the 57-year-old after he refused to hand over the keys and a fracas ensued.
As the father of two attempted to flee with the keys in hand, he slipped trying to jump over a fence and fell to the floor. Showing little mercy the two men, who had jumped out of a white Ford Kuga, parked nearby, pounced on Cappellie and snatched the keys to the Audi when he held his arms out to block the blows raining down on him.
His wife Jennifer, 47, tried to block the drive with her own vehicle, but the criminals managed to get away in the luxury 4x4 just in time.
Cappellie told the Birmingham Mail: "I didn't have time to be frightened. I just wasn't going to hand over my car keys just like that. They must have been waiting outside for me to come out. In hindsight, especially with my wife standing there, I shouldn't have put up a fight - but it all happened so quickly."
Jennifer had attempted to call neighbours for help before trying to block the assailants, who were going so fast they left tyre rubber marks on the drive. On arrival, paramedics thought that both Cappellie's arms were broken, but it was just heavy bruising.
Cappellie added: "They told me to hand over the keys and I in no uncertain terms, told them they weren't going to have them. When I fell over they started kicking me and hitting me with the iron bars. The bars were about a foot and a half long and they were very heavy, I can tell you."
West Midlands Police have begun an investigation and are appealing for help to catch those responsible for the attack. Anyone with information is asked to contact DC Jon Rankin at Solihull police station.