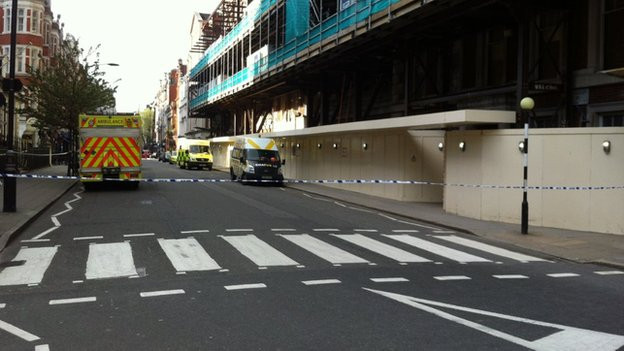 A man has died in central London after a building on a construction site partially collapsed.
Police were called to the property at Grosvenor Square where the man, believed to be in his early 30s, was pronounced dead at the scene. One other person has been treated for minor injuries.
A spokesman for the Met said that is believed that the man may have fallen after a floor gave way.
Three ambulance crews, three single responders in cars, a hazardous area response team, the air ambulance and two officers attended the incident.
Receptionist Salima Cherrad, 26, told BBC News that she saw the emergency services arrive at the scene, as at least 20 construction workers emerged from the building.
"We saw a helicopter here in Grosvenor Square and we assumed it was something that happened with the guys and the scaffolding. There were lots of them who came out of the building at the same time and they were all gathering at one spot in the square."
The site, located just yards from the American Embassy, is a former US naval headquarters, vacant since 2007, which is being redeveloped into residential accommodation as part of a £250m renovation.
Declan Sherry, chief executive of site contractor McGee, said it was liaising with workers' families.
"We cannot, therefore, release any further details at this time," he said.
Police officers have asked the public to avoid the area.