A man who took part in an escapade in which a Soviet star on top of a Stalinist-era skyscraper was repainted in the colours of the Ukrainian flag has been jailed for two years.
Climber Vladimir Podrezov, 20, was jailed for two years and three months on Thursday, September 10, after being found guilty of assisting vandalism at Moscow's Tagansky District Court. Four base jumpers who parachuted from the building on Kotelnicheskaya Naberezhnaya were found not guilty on charges of hooliganism and vandalism, RAPSI legal news agency reported.
The stunt on August 20, 2014 came after Russia annexed Crimea, and Moscow-backed militants clashed with Ukrainian government forces in east Ukraine.
Ukrainian Pavel Ushivets, also known as Mustang Wanted, scaled the tower of one of Moscow's landmark Stalinist-era 'seven sisters' skyscrapers, painting the star at the summit with the blue of the Ukrainian flag, and also raising a Ukrainian flag above the building. He subsequently posted a video of himself online performing the stunt, and claimed he was inspired by a "surge of sincere patriotic sentiment".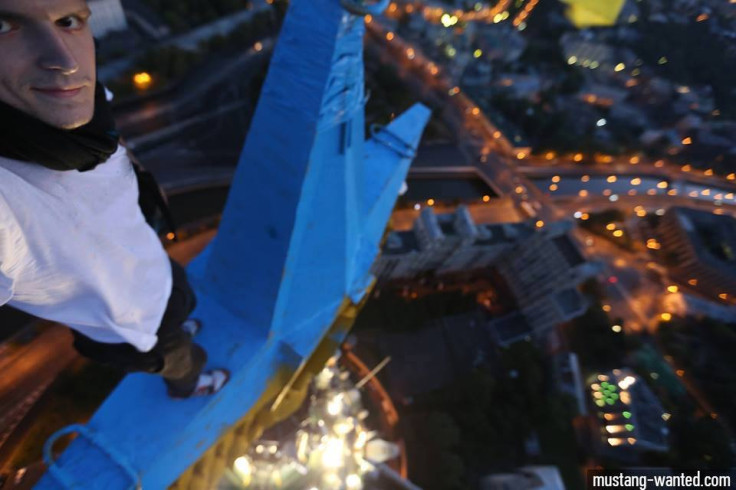 Five 'roofers', or extreme urban climbers, were arrested after the stunt. Ushivets fled the country for Ukraine, and Kiev authorities have stated he will not be extradited to face criminal charges.
Four of those arrested were charged with vandalism and hooliganism motivated by hatred on political grounds and faced up to seven years in jail. The fifth roofer, who is pregnant, faced a three-year suspended sentence.
Podrezov admitted he helped Ushivets travel to Moscow for the stunt, but denied that he knew of Ushivets' plans to paint the star on top of the building. The four others arrested said they had nothing to do with the stunt.
Podrezov has been held in pre-trial detention since his arrest last year, and will be eligible for release after two months. His lawyer, Olga Lukmanova, said he will appeal the sentence.
"It's too bad, they should have released him, he had been behind bars for a year," his friend Ivan Khlopov told AFP.