Daredevil climber Mustang Wanted, who has gained online notoriety for scaling some of Europe's tallest structures unsupported, has claimed responsibility for painting a Soviet star atop a Stalinist-era landmark in Moscow, Ukrainian blue.
The daredevil, whose real name is Grigory, claimed responsibility for the stunt on Facebook and Russian social networking site VKontakte, reports Russia Today.
Under his pseudonym, Grigory posts stomach-churning pictures and videos of himself climbing some of the world's tallest buildings, including cathedral spires and skyscrapers, then hanging from them by his fingertips unsupported or performing acrobatics.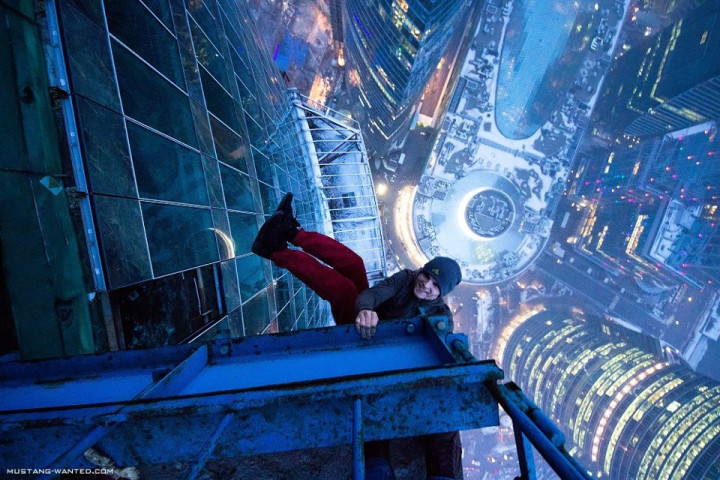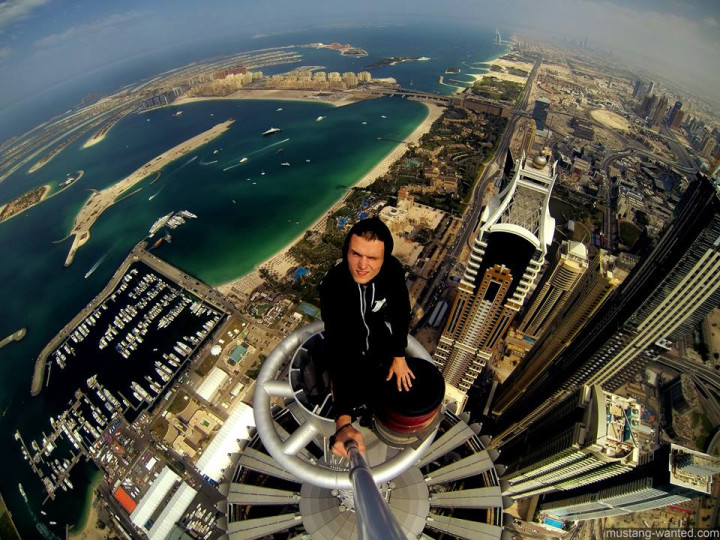 "I'm that person who in an outburst of sincere patriotic feelings climbed the roof of the high-rise Kotelnicheskaya Embankment Building and repainted the star on top of it in the colors of our dear Ukrainian flag, and then also raised a flag of independent Ukraine. I have photo and video evidence of that," the post reads.
As proof, Grigory attached a selfie of himself next to the repainted star atop the building, which is one of Moscow's tallest at 176 metres.
"I consider what I did an art performance and dedicate it to Ukraine's Independence Day," he wrote.
He said that he was forced to claim responsibility after four young Russians carrying climbing equipment were arrested near the building after the incident on August 20, and are currently under house arrest.
Mustang said in the post that he will hand himself into authorities "in exchange for the release of a brave Ukrainian girl – Nadya Savchenko," a Ukrainian pilot who was kidnapped by pro-Russian separatists in eastern Ukraine and handed over to Russian authorities.
The group of two men and two women arrested said that they were base jumpers, who scale buildings to jump off them with parachutes, and had not painted the star.
As part of the stunt, a Ukrainian flag was also erected on top of the building, and a maintenance crew afterwards spent several hours hauling the flag down and repainting the star, which is embossed with the Soviet Union's hammer and sickle.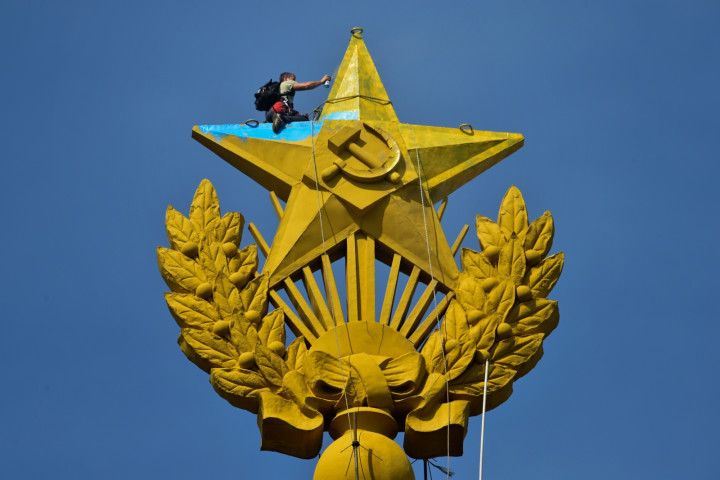 In the post, Mustang wanted said the stunt took "almost all night", and he finished at 6am, and dedicates it to "all the guys defending my homeland now! Glory to Ukraine!"
It sparked a series of copycat stunts, as Soviet-era buildings and monuments were defaced by those protesting against Russia's actions in eastern Ukraine.
Referred to as the Seven Sisters, the building is one of seven landmark high rises, built in the Russian capital after World War II under the rule of Joseph Stalin.