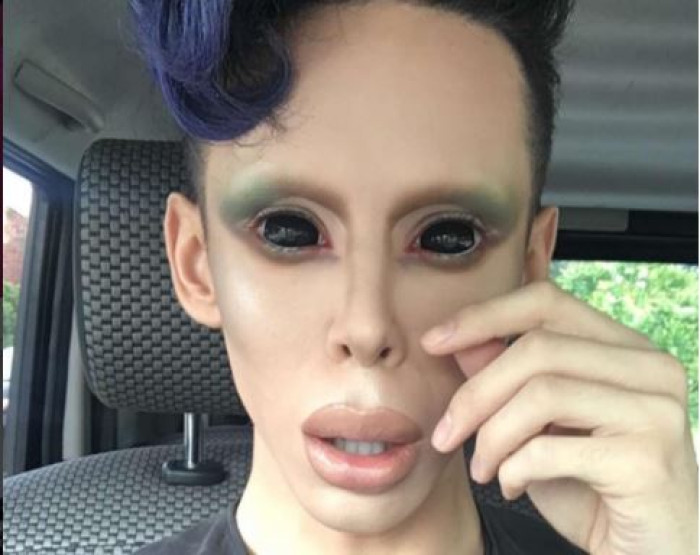 A man is in the final stages of becoming a genderless "alien" as he plans to remove his testicles in his hundredth-plus surgery.
Make-up artist Vinny Ohh, who lives in Los Angeles, California, has spent $50,000 (£40,000) on plastic surgery to look like an alien and is planning more procedures to transform into a genderless extra-terrestrial.
The 22-year-old has already had over 110 procedures, but is reported as saying he is planning to have his genitals, nipples and belly button removed next, if he finds a surgeon willing to carry out the operation.
The artist, who believes he is neither male nor female, is quoted as saying his plans to become genderless could cost him over $160,000 (£130,000).
"I want to be a sexless alien being, I want my outside to reflect how I feel on the inside," he said.
"The overall image I want to do is an alien. I want to be a hybrid, not male or female. I've wanted to be sexless and genderless since I was 17, I've been going to doctors to see if it's possible but had no luck.
"I don't want people to think I'm trying to change into a woman. I could live without sexual organs so why should I have a penis or a vagina. I don't see why I shouldn't have my genitals completely removed and have nothing down there."
The part-time model had his first lip fillers age 17, before undergoing two rhinoplasties, multiple cheek and brow bone fillers. Ohh completes his look by wearing large blackened contact lenses, talons and unusual hair dye colours.
A passionate activist for the Lesbian, Gay, Bisexual, Trans and Queer (LGBTQ) community, Ohh said his look now represents the belief that "people shouldn't be labelled".
"Over the years, I've realised I'm not gay, bi, trans or any of these things, I just want to be me. I do it to inspire the world in a certain way, I want people to stop labelling others or putting them in boxes."