Survivalist cop killer who sparked a $6m manhunt is sentenced to death in Pennsylvania
Eric Frein fatally shot an officer and wounded another before going on the run.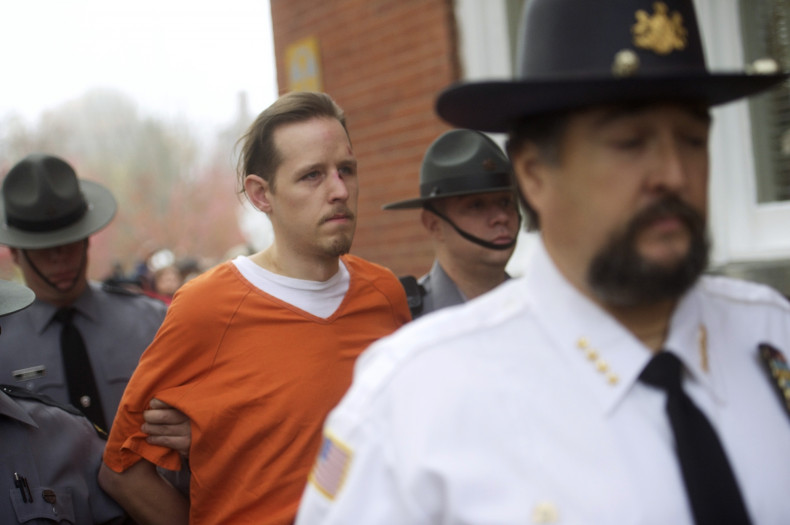 US police killer Eric Frein has been sentenced to death after being convicted of 12 charges that included terrorism and first-degree murder.
Frein, 33, fatally shot state Cpl Bryon Dickson and injured Pennsylvania state trooper Alex Douglass in September 2014 outside their barracks in Blooming Grove before going on the run from police. They finally apprehended him in October of the same year.
Frein, a known survivalist had an obsession with guns and the military and appeared in films dressed as a soldier. Prosecutors said Frein struck because he wanted to start an uprising against the government.
Despite more than 1,000 police officers conducting searches of nearby forests and the discovery of some of Frein's weapons, ammunition and food, Frein managed to evade capture for almost six weeks, at an estimated cost of $1.1million per week.
Law enforcement officers sat in court as a jury in Pike County delivered a guilty verdict to Frein and sentenced him to death, with a formal death sentence to be issued to Frein on Thursday 27 April.
His sentence concluded a three-week trial, during which the defence argued Frein had been influenced by his father and that he had grown up in a dysfunctional environment.
As the guilty verdict was read out, several members of state police who sat in the courtroom said ''yes'', while Frein did not react to the verdict.
Pike County District Attorney Ray Tonkin told NBC News: "There is a satisfaction that the jurors have delivered full justice in this case and issued the penalty that is so richly deserved by Eric Frein.
"This verdict is for each and every member of law enforcement who dons a uniform and goes out to protect us each and every day."
Frein's lawyers have said they will appeal the verdict, with Attorney Michael Weinstein arguing Frein had become depressed after attempting to be like his father, The Morning Call reported.
"The Frein family was founded and forged on lies and anger, and to some extent on hatred," Weinstein told the news site.