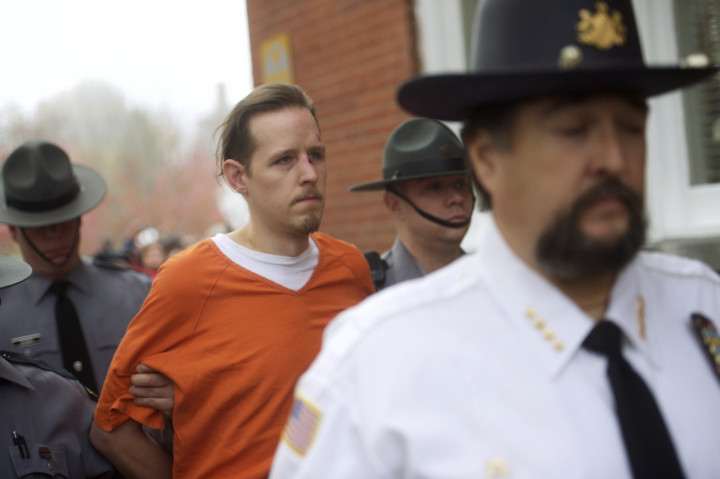 The cost of the a 48-day manhunt to find cop killer Eric Frein – one of the FBI's most wanted fugitives – has been revealed today.
Frein, a 31-year-old survivalist, shot and killed 38-year-old Corporal Bryon Dickson and wounded a second state trooper at the Blooming Grove barracks two months ago. He went on the run, living off the land in order to avoid capture.
Thousands of law enforcement officers were needed to search across the Pocono Mountains for Eric Frein, who camped in the woods near his parents' house in Canadensis, approximately 130 miles north from the city of Philadelphia.
Locals resident were told that Frein was armed and extremely dangerous.
The police operation required vast resources, with officers coming from across states. Helicopters, sniffer dogs and heat detection surveillance was used to catch the murderer.
In total $10.5m (£6.7m) was spent on personnel of which $2.8m covered benefits and $6.9m paid for overtime.
Frein was eventually located and captured outside an abandoned airplane hangar on 30 October. He made no attempt to resist arrest.
Several homemade bombs and an assault rifle were found in the woodland during the search for the wanted killer.
It is believed his position was uncovered after he tried to make a phone call to his parents using a mobile phone.
After he was arrested, Frein claimed he killed the policeman and wounded another officer because he wanted to start a revolution.
Describing the shooting as "an assassination", Frein reportedly wrote in a letter to his parents that he believed "the time seems right for a spark to ignite a fire in the hearts of men. What I have done has not been done before and it felt like it was worth a try."
Prosecutors are calling for the death penalty.