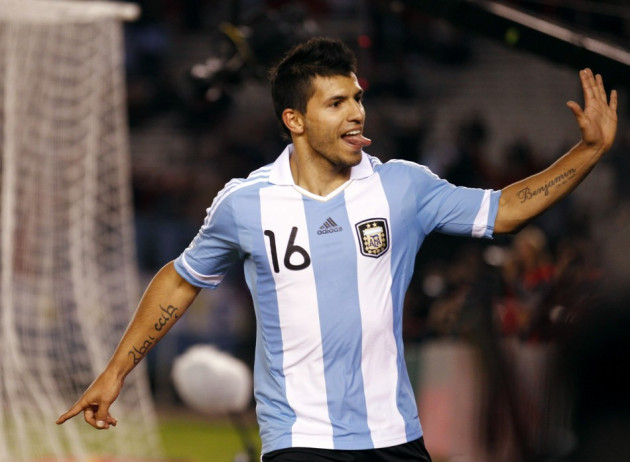 In the wake of Carlos Tevez's transfer request, reports in today's papers suggest Manchester City are keen on signing Atletico Madrid's £41m-rated striker Sergio Aguero.
Juventus are currently favourites to sign the Argentina international, after Chelsea's interest cooled in the face of Atletico's valuation of the forward. However, after last night's statement from Tevez indicating his determination to leave Eastlands, the Premier League high-rollers may enter the race for Aguero, who earns £230,000-a-week in wages and would effectively be a direct replacement for Tevez.
There is an acceptance at Atletico that Aguero will leave this summer, after the Argentine publicly stated his desire to move on in May.
"I am aware of Juve's offer but only when the Copa America is over, will my future destination be known," the player told the Daily Telegraph.
"There are negotiations going on with the Italian club but I don't know how many millions they have offered for my services.
"These are things that only my agents know.
"My only focus right now is on the Copa America."
Although Aguero would be the club's first choice, City officials are also in talks with Napoli over the potential transfer of Ezequiel Lavezzi, according to the Independent.
The Argentina international has been heavily tipped with a move to the Premier League this summer, with City and Liverpool among the player's admirers.
Mancini's agent Giorgio De Giorgis told Radio CRC: "Manchester City's interest in Lavezzi could be a reality.
"[City] has been negociating for the past few months with Napoli, regardless of Tevez's situation. City has spoken to Napoli about Pocho [Lavezzi].
"But €31m for Lavezzi, I think it's excessive.
"However, to find a player who is ready like Pocho is, it's not easy.
"Manchester City could include a player in the deal, but I don't know what player could interest Napoli.
"The only one could be [Gareth] Barry, who is an England international and does not have a high salary."
Lavezzi's Napoli contract runs until June 2015 and has a release clause of £26.8m.
Roberto Mancini has also been linked with a move for Chelsea striker Didier Drogba, according to reports in today's Daily Star.