Manchester City captain Vincent Kompany has dismissed rumours over his move to Barcelona in the summer, with the Belgian stating that he is willing to honour his contract with the Citizens, which expires in 2018. Kompany's men surrendered their title to Manchester united with their 3-1 loss to Tottenham Hotspur at the White Hart Lane and the Red Devils made full use of the opportunity with a 3-0 win over Aston Villa on Monday, to secure their 20th league title, the 13th under Sir Alex Ferguson.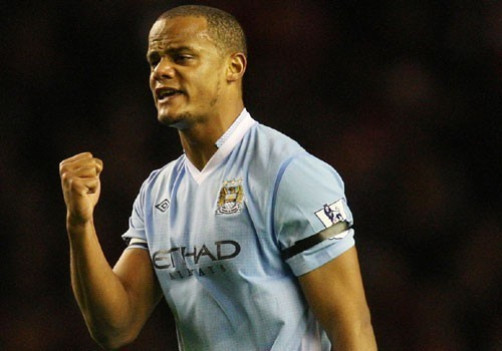 "I have no reason to go. I'm happy here, I have five years left and if you knew the plans for this team I consider that a real objective," he said.
Kompany has been plagued with injuries this season, with the defender missing a large chunk of City's title defence campaign with a calf injury. The Belgian has started in only 24 games this season in the league and his absence played a major part in City's inability to keep a clean sheet in games. However, Kompany's commitment will come as a major boost for manager Roberto Mancini who has already managed to secure midfielder Yaya Toure to a long term contract.
Joe Hart on Comeback.
Manchester City goalkeeper Joe Hart believes that the Citizens will bounce back next season and is currently focussing himself on their FA Cup final against Wigan scheduled in May. The stopper also blamed the players for their failure to keep up the tempo in the final 15 minutes and refused to accept tiredness as an excuse.
"It feels disappointing but we will be able to assess the bigger picture at a later date. Now we have a Cup final to look forward to and, after that, a summer of getting our heads down and sorting it out for next year. We will bounce back easily - it's what we do. We've another big game coming up at the weekend against West Ham and then have the FA Cup final - and all the lads are trying to get their spots for it," he said.
"It's no good playing well for 75 minutes when it's a 90-minute game. And we can't complain of tiredness. We messed up in Europe so we've had plenty of rest," he added.