Ashley Young says he's glad he's not in Sir Alex Ferguson's position, with Manchester United boasting a large group of strikers pushing hard for a place on the first team.
The purchase of Robin van Persie over the summer has given the Red Devils a formidable strike force, and though Javier Hernandez, Danny Welbeck and Wayne Rooney had already taken the club to within minutes of winning the title last season, Ferguson is aiming to bring in an attacking line up that will blast City's goal difference from last season out of the water.
And though Young knows that United have all the goods to challenge for trophies in England and across Europe, he can see it will be a struggle for Ferguson to make tough decisions over his striking line up.
"Any defender that comes up against the attacking options we have would be nervous," he told the United website. "I would be!
"I must say, I'm glad I don't have to pick the team [although] it's great as a winger to see so many good strikers in front of you who can get in the box and finish.
"We're there to provide for them because we know every single one of them can score goals and we hope they all do that this season."
Young reserved special praise for van Persie, who has four goals from two starts to his name so far for United, and looks to have already started paying back his transfer fee to Ferguson.
"He's a world-class striker who can not only score goals, but lay on assists," he explained. "Robin's also great from set-pieces. He's an all-round player and exactly the type a club like United should have - we want the best players.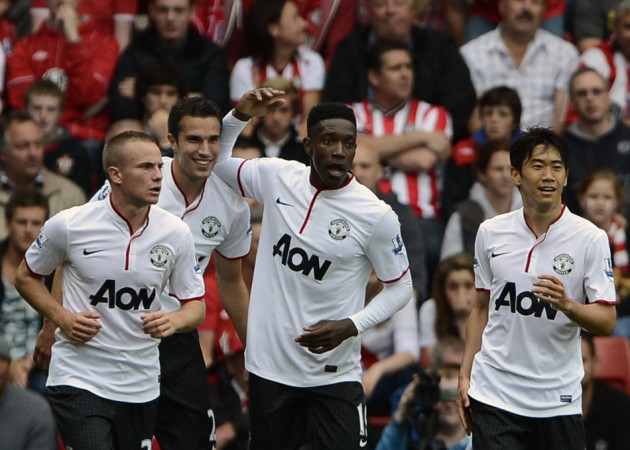 "He's fitted in very well but it's easy for any player that joins United to fit in because the players here are so good at making you feel welcome and really help you settle in.
"It's still only early days, but you can already see he's formed some good link-ups in training and on the pitch. He's a great addition to the squad and I'm sure he will have a big impact this season."
One of the big changes in the United line-up that looks certain to take place with van Persie around is that Wayne Rooney's game time will be more limited than in past seasons.
Today, as the England international released his biography, he admitted that when he was dropped and fined over Christmas is was a tough lesson over the professional nature at United.
"I'm happy at Manchester United, despite the downs that sometimes take place at a football club," he wrote, as reported by the Daily Mirror. "Like when we stuff Wigan 5-0 on Boxing Day.
"I go out for dinner with a few of the lads, and our other halves, to a hotel.
"The next day, the manager pulls me up and tells me he's not happy and doesn't feel I've trained properly. He fines me, but there's worse to come. I'm dropped for the next game, on New Year's Eve, against Blackburn.
"At a lot of clubs, people wouldn't bat an eyelid at players having a night out six days before a game. But that's the difference at Manchester United and a mark of the high standards the manager demands.
"It's a big deal, another lesson learned.
"The following week I had to sit in the stands and watch us lose 3-2 to Blackburn. It's the worst feeling when that happens. It was terrible. Blackburn looked certainties for relegation, yet we were worse than them."