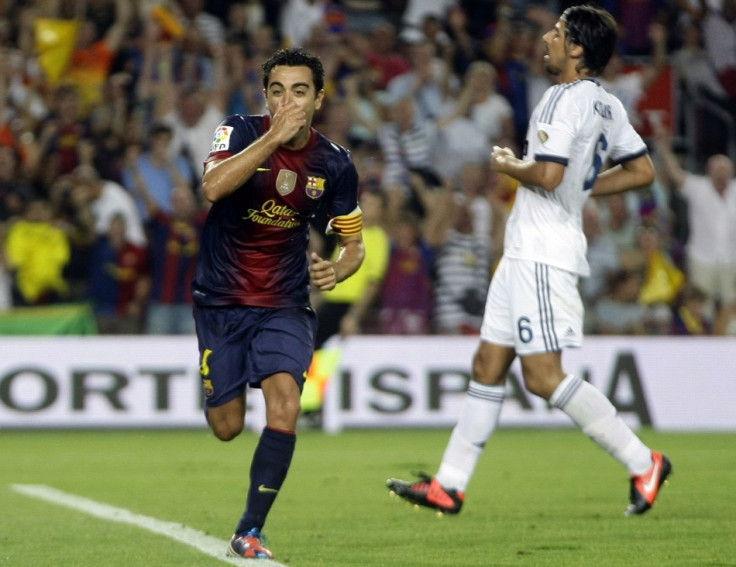 Manchester United manager Louis van Gaal has joined Lionel Messi, Andres Iniesta and a number of Xavi Hernandez's relatives to say goodbye to the Barcelona legend with an emotive message.
The 35-year-old star recently announced his decision to leave the Camp Nou after 17 successful campaigns to join Qatari side Al-Sadd, after winning 24 major trophies with the Catalans including three Champions Leagues and eight La Liga titles.
The Spaniard recently expressed his gratitude to the current Manchester United manager for handing him his debut at the Camp Nou at the age of 18 on 18 August 1998.
"I remember a lot from Van Gaal. Because besides training the first-team he was an educator [for the academy players]. He used to come to see the youth team. He was a great educator. Over the years you realise that at this club he was underrated because you realise the wisdom he had. Now that I am more mature I am aware of that," Xavi recently said during his farewell press conference.
And the Dutch boss has now responded to his praises with an emotional message as part of a touching video tribute released by Barcelona to say their last goodbye to the captain.
"Xavi. You aren't so bad. You are great. Thank you for your friendship and for your vision of the game. Goodbye Xavi," Van Gaal said.
Xavi broke drown in tears following the United boss's message and thanked the club for its support.
"I want to thank every member and every fan, I'm very grateful.
"The trophies are nothing compared to the laughs I had here and the friends I'm leaving behind," he said.
The Spaniard had been close to leaving Barcelona last summer to join New York City after a disappointing season without silverware.
However, manager Luis Enrique convinced him to stay one more season and despite seeing his playing time restricted he had the opportunity to finish with the treble in the Champions League final against Juventus on Saturday 6 June – having already clinched La Liga and the Copa del Rey this year.
"Thanks to Luis Enrique and [former sporting director] Zubi, who convinced me not to leave last summer. I'd have killed myself now if I had left."