After Manchester City lost to Southampton at the weekend, Sir Alex Ferguson admitted he changed his game plan to go all-guns-blazing to play Everton the following day, as he could see just how important an extra three points would be for Manchester United at the top.
His last minute changes worked, and United are now 12 points clear - a lead few would have predicted at the start of the season.
Mancini has made no secret of the fact he blames Joe Hart's errors for costing City valuable points and damaging their aspirations of retaining their Premier League crown.
"Joe has made too many mistakes. He has not been good enough," he told the Sun. "It was a really bad mistake from Joe [against Southampton, in which the Saints won 3-1].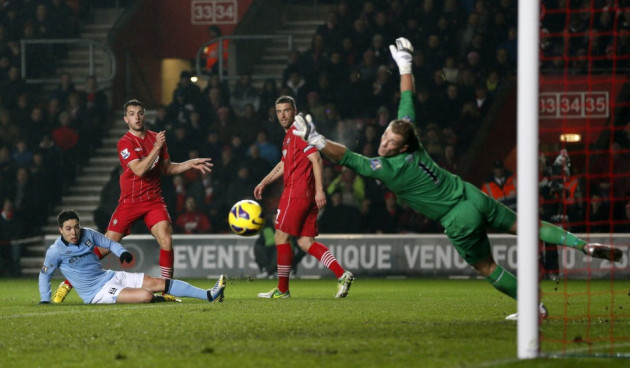 "It was not good enough. It's not strange because he's done a few mistakes this year."
United have been suffering from their own goalkeeping issues, with David De Gea producing inconsistent performances that have led to speculation that he may be replaced by Anders Lindegaard, whom Ferguson doesn't seem fully convinced by either, or by a new keeper entirely.
But many, including Ferguson, have argued that De Gea is continuing to improve, and compared to when he joined the side in 2011 the Spanish youngster has certainly shown signs of adapting to the demands of English football.
Last season, while De Gea made costly mistakes that led to losses for United, particularly at the turn of the year to Newcastle United and Blackburn Rovers. City meanwhile, were flying high with Hart at the helm, who could do no wrong as he often kept the side in games amid defensive problems.
Hart's importance has been emphasised by the significance of his mistakes this season, namely in defeat to Southampton, which Mancini said left City with a 10% chance of winning the title, a factor which has left the club looking streets behind their near neighbours who they so convincingly beat on two seperate occasions in the league last season.
While Hart has made some major errors, De Gea's have been few and far between; his late fumble against Tottenham, which turned three points into one, a notable but rare lapse of judgement.
While Mancini might argue that City's refusal to compete for the signing of Robin van Persie was the key to losing the title this season, should United not give up their 12 point lead, it isn't just in the striking department that the big spenders have seen a decline.
Their reliance on Hart to be the back up when all else fails is dwindling, and with that so are their chances of retaining the Premier League title.