David Moyes' first task as Manchester United manager will be to sit down with unhappy striker Wayne Rooney in order to discuss his future at the club.
It was confirmed by departing manager Sir Alex Ferguson that Rooney had handed in a transfer request and it will now fall upon Moyes to try and convince the England international to remain at Old Trafford.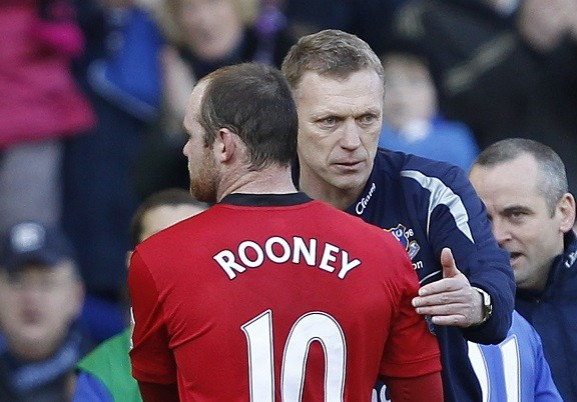 "I don't think Wayne was keen to play, simply because he has asked for a transfer," Ferguson told Sky Sports after United defeated Swansea 2-1 in their final home game of the season. "I think he wants to think it through in his mind and I think that is a good idea. But we are not going to let him go. I just think he is maybe a bit frustrated about being taken off once or twice in the last few weeks."
Moyes will not officially begin his tenure as Manchester United manager until 1 July but the Guardian believe that he will start work as soon as Everton's season comes to an end on Sunday at Chelsea.
Next Monday he is expected to meet with Rooney, whilst also discussing how to take the club forward in relation to player acquisitions and sales, plus the make-up of his backroom staff at United.
However, the most pressing issue will be resolving the future of Rooney who still has two years remaining on his contract. Moyes was the first manager to hand the striker a first team opportunity when he was at Everton but there was a clash years later after the publication of Rooney's autobiography.
Rooney was sued by Moyes for allegations in his autobiography but the issue was resolved back in 2010 after the striker apologised to his former manager and there is not believed to be any outstanding resentment between the pair.
It is the second time that Rooney has handed in a transfer request and it is believed that the Liverpudlian has been unhappy with his reduced role this season. The striker has been repeatedly substituted in recent games and was omitted from the starting line-up when United played Real Madrid in the second leg of their Champions League last-16 tie.
There have been reports that Paris Saint-Germain and Chelsea are both interested in the former Everton forward but Manchester United would certainly not want to lose one of their most prized assets.