Manchester United Transfer Rumours: Sneijder, Ganso and Neymar in Today's Press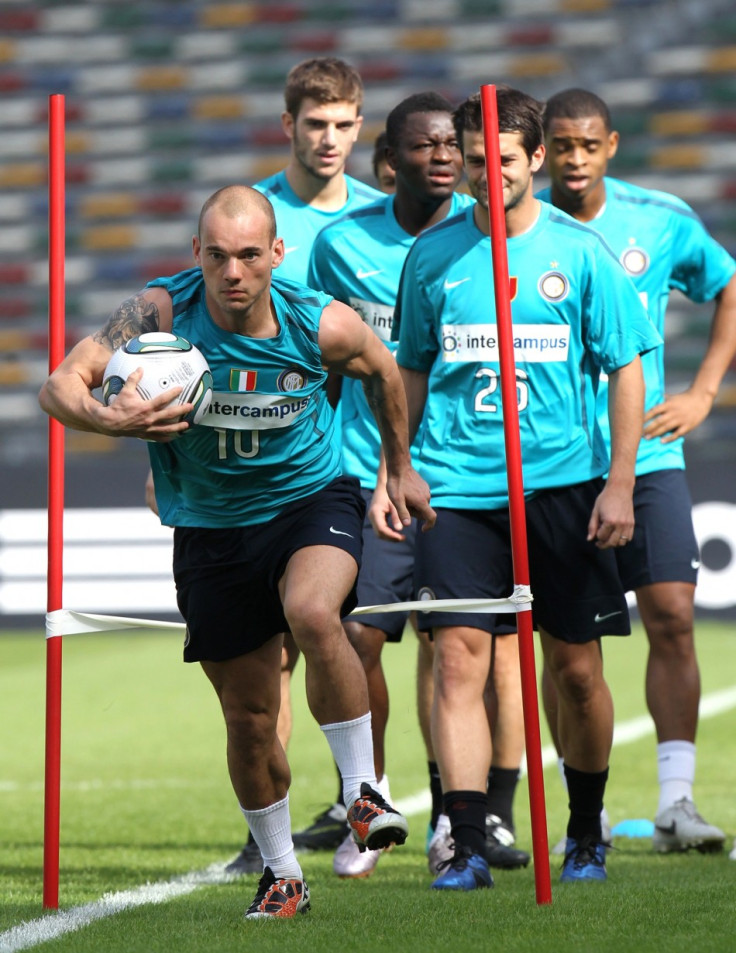 Manchester United's fragile hopes of signing Wesley Sneijder took another turn last night as unconfirmed reports suggest Manchester City will launch an audacious bid for the Dutch midfielder.
The Daily Star suggests City officials are considering a bid for the Inter playmaker, either as part of a cash-plus-player deal involving Carlos Tevez or a straight £35m offer.
But Inter president Massimo Moratti remains confident Sneijder will stay in Milan, despite the ongoing speculation.
"Should he stay? I ask myself that too. But I hope he will stay," he said.
"[Rumours] are what you read in the papers, but for the moment I don't think there will be news at the club.
"It's just what is written. You read about many players that seem to have already signed for Real Madrid, for example, and then it turns out it's not true.
"So it seems to me that there are many rumours but scarce money."
Sir Alex Ferguson has gone to great lengths to distance himself from a move for Sneijder. Earlier this week the United manager told reporters "Forget it. We are looking at some things but I am not so sure Sneijder will be easy to get. I could pick three or four players to come in but they wouldn't be good enough for us so there is no point."
With David Silva already on the club's books, City have no need for another midfield playmaker and it's likely that these reports could be nothing more than an attempt by Inter to smoke out a bid from United. Should that be the case, expect this one to rumble on in the background for some time.
New Kaka
United look set to miss out Santos midfielder Ganso, despite reports linking the midfielder with a move to Europe.
Santos director of football Pedro Luiz Conceicao said both Neymar and Ganso will stay in Vila Belmiro until at least the end of 2011.
Ganso has also been linked with AC Milan and Inter Milan but Conceicao told a press conference on Wednesday that there would be no departures before the Club World Cup next January.
"We feel 100 per cent secure and have total faith that the squad we currently have will stay, at least until the end of the year," he told reporters.
United will instead attempt to hold off attention from Arsenal, Chelsea and Real Madrid for Ajax youngster Christian Eriksen, reports suggest.
Sir Alex Ferguson has been monitoring Eriksen for some time and, despite being just 19-years-old, believes the playmaker could be the natural successor to Paul Scholes.
Eriksen made his debut for the Danish national team in March 2010 and went on to feature at the World Cup in South Africa. Reports suggest Ajax will consider any offers over £20m for the 2011 Dutch Football Talent of the Year winner.
© Copyright IBTimes 2023. All rights reserved.