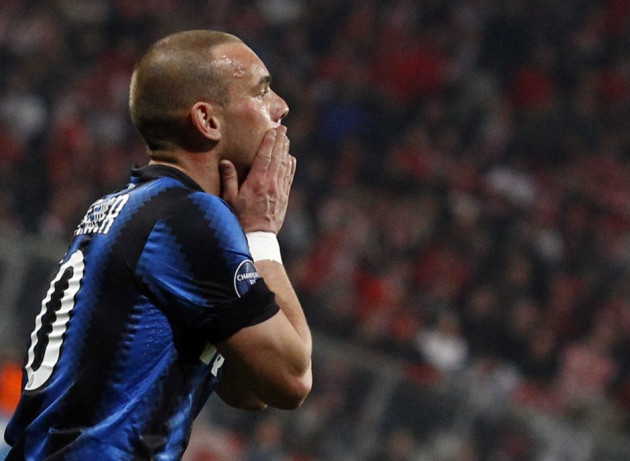 Click here for a full round-up of today's football transfer news
Manchester United's pursuit of Wesley Sneijder will either a) happen in the next 48 hours, b) only occur should Sneijder lower his £250,000 wage demands or, c) was never on the cards in the first place, according to mixed reports in today's press.
Although Inter Milan have received no formal offers for Sneijder, the Daily Mirror says United are "close to completing" a £35m transfer for the former Real Madrid player. ESPN Soccer, meanwhile, reports that United are wavering over their pursuit of the 27-year-old playmaker, after Sir Alex Ferguson raised concerns about the player's £250,000-a-week wage.
But The Guardian pours an equal measure of scorn over both stories after Sir Alex Ferguson told reporters:
"I keep reading about this, there's absolutely nothing at all to that [reports of United's interest in the player]. First of all I don't think Inter are prepared to sell him anyway.
"You get conjecture and you get speculation every week in newspapers unfortunately. And we have to answer these for some reason - why, I don't know, but we have to find a reason without adding insult to any particular club, or embarrassing any particular player. There's nothing we can do about it."
Yesterday, it was reported that United chief executive David Gill had flown to Milan for negotiations with Sneijder's representatives. In fact, as ESPN Soccer reports, Gill travelled to Zurich for a European Club Association meeting and the website reports that the club's interest in the player has "cooled".
"David Gill has not rushed out to Milan to sign the player, as it has been suggested - he went to Zurich," a source told ESPN. "I don't think Manchester United will go through with any deal for Sneijder, when you examine the finances involved, in particular the player's wages."