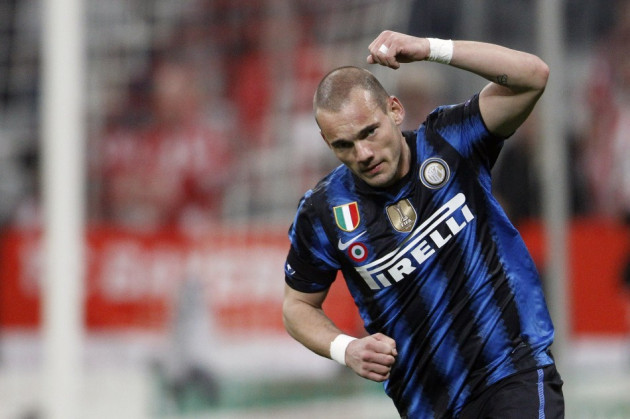 Click here for a full round-up of today's football transfer news
Manchester Utd officials are confident a deal to take Wesley Sneijder to Old Trafford can be reached before the club's pre-season tour of the United States begins later this week.
United chief executive David Gill stayed behind as Sir Alex Ferguson and the squad travelled to the U.S. on Monday in an attempt to conclude negotiations with representatives of the Dutch international and Inter Milan, according to The Sun.
However, Ferguson is believed to harbour concerns about the player's age -- Sneijder turned 27 last month -- as well as the long-term financial gain in signing a player with little or no resale value. United have signed just three players over the age of 27 for more than £3m since 1997, The Telegraph reports.
Ferguson's transfer attitude is grounded in the belief that younger players with the potential to develop on the pitch are of greater value over players at the mid-to-latter stages of their careers.
As a result, Gill will try to reduce Sneijder's overall wage demands -- believed to be upwards of £200,000-a-week -- in any deal involving the midfielder.
Meanwhile, Inter Milan technical director Marco Branca says the club have yet to receive any official offers for Sneijder.
Branca said on the club's official website, "No, there has not been an official offer and there has never been the intention to listen to them.
"Hence, the player is getting on with his work and so are we. There are no updates.
"It's not surprising that Sneijder is a player that is liked by many teams, including the strongest in the world like our team is. He is not for sale."
French connection
United have been alerted to the availability of Real Madrid midfielder Lassana Diarra, after the French international was left out of Real Madrid's squad for their American tour.
Diarra has struggled to hold down a first-team place under Jose Mourinho and the Daily Mail reports the player could leave for as little as £10m, with Real keen to offload a number of unwanted stars.