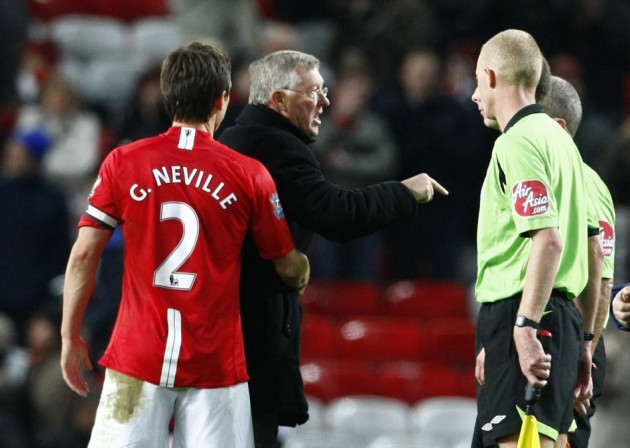 Sir Alex Ferguson has admitted he routinely pressured referees during his time as Manchester United boss. The 71-year-old Scot is to step down from the Old Trafford post after Sunday's Premier League match at West Bromwich Albion after 26 years in charge. And in all that time, Ferguson has built up a reputation for being aggressive towards match officials.
"The fourth official on Sunday against Swansea showed me the board and it said eight minutes - I said, 'Think again'. But that's been a part of it too, the pressure you try and put on referees. I save mind games for opponents though," the manager told MUTV.
Ferguson was fined £12,000 in February, after an incident involving assistant referee Simon Beck in a 1-1 draw at White Hart Lane. He was lucky to avoid a similar problem after an outburst against Mike Dean at Old Trafford, in a match against Newcastle United earlier this season.
No 'Fergie Time' for David Moyes
Everton manager David Moyes will take over from Ferguson for next season but the elder Scot has laughed off reports he will gift his compatriot his watch; a timepiece infamous for "Fergie time".
"He'll get one, don't worry. Will it have Fergie time? I don't know about that. Biting your nails is part of it at United for our fans. Memories will always take us to those last-minute goals. My son was trying to count them - there must be about 30 that have really meant something. When I come back to watch, I'll still be anxious when it gets to the last five minutes and we're a goal down!" he said.
Ferguson also took a dig at rivals Chelsea and Manchester City, over their instability, and branded the latter an "unusual club" for sacking Roberto Mancini.
"This is an unusual club. Look at the behaviour of some clubs sacking managers. I'm not naming names - the whole bloody lot of them. We show patience, trust, loyalty - and it's rewarded," he added.