When Paul Scholes announced his retirement two seasons ago, Sir Alex Ferguson was left with the inenviable task of finding a replacement. Something he will once have to address at the end of the current campaign.
That is why the latest comments from Wayne Rooney make for interesting reading. The striker has revealed in his new book that he sees himself becoming a central midfielder later in his career when he has lost his pace.
"In midfield I don't have to be as sharp as a forward," stated Rooney. "Once I feel that I haven't got the sharpness needed to get away from defenders, I'll probably drop back into midfield for a couple of seasons so I can still influence the game.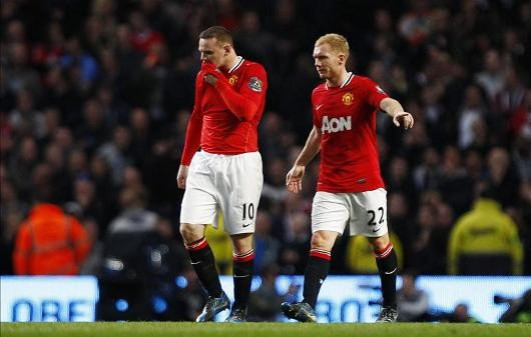 Yet, perhaps there is an argument that Rooney could fulfil this role once Scholes comes to the end of a long and glittering career thathas made him virtually irreplaceable in the heart of Ferguson's midfield.
In the period between August and January, when United were without the vision and creativity of Scholes, they struggled to replace his controlling influence. It was only when he returned that the club became genuine title contenders once again.
During this absence, Rooney was, on occasion, asked to fill the rather sizeable void. Against Otelul Galati in the Champions League he received much praise for his performance in the midfield role.
"Rooney was our best player and showed great awareness of that role,'' revealed Fergie after the game. "His selection of passes was really good. He showed great energy and determination so we got a great performance out of him tonight. He has all the qualities you would need to be a central midfield player."
In that match Rooney completed some 88 passes and was once again playing in central midfield for the 1-0 Premier League win over Sunderland the following weekend.
However, United could not afford to keep Rooney in this role. Scholes returned and the former Everton man was once again in his preferred position in attack. This season it could be different.
Robin van Persie has already shown what he can do when playing in a 4-3-3 system. Flanked by the hard working Danny Welbeck and the powerful Antonio Valencia - the Dutch forward has given Ferguson an extra dimension.
With Javier Hernandez another option in attack, United have looked less impressive in midfield. Finding themselves 2-1 down against Southampton, with Michael Carrick, Shinji Kagawa and Tom Cleverley unable to dominate proceedings, Scholes was called upon and the game changed.
But the 37-year-old set to retire [again] at the end of the season, Rooney could be a ready-made replacement and that would allow funds to be spent elsewhere. The England man has admitted he loves to play in midfield, but believes it would suit him later in his career.
"When I get stuck into the action as a central playmaker, I love it. I get more of the ball, I'm involved loads. I even think about playing there permanently, but only later in my career," reveals Rooney.
"In my heart I'd prefer it if I was playing up front, because I can still do a lot of damage, but the sacrifices don't bother me."
With question marks over the fitness of the 26-year-old, and further concerns over injury problems, Rooney could well have to make further sacrifices for the team and play in a deeper role.
There is little doubt that he has the vision, technical ability and commitment to excel in the position. When Scholes finally walks away from the game for good, then United could do far worse than to look within their own ranks for a replacement.