Cristiano Ronaldo believes that Real Madrid have a better team than Manchester United as the Portuguese midfielder prepares to face his older club in the knockout stages of the Champions League.
The 28-year-old will come up against his former club for the very first time since joining Real Madrid for £80million in the summer of 2009 when Manchester United travel to the Bernabeu next week.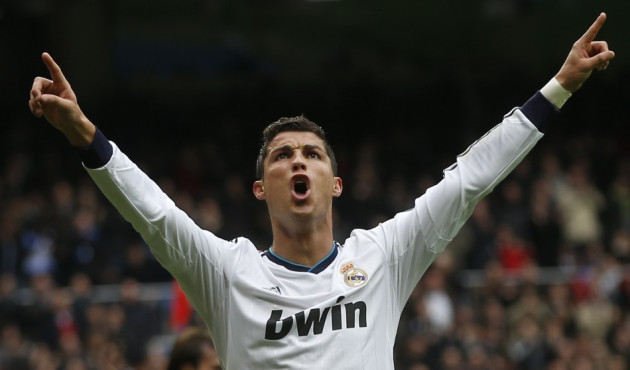 Madrid have been struggling in the league and currently find themselves in third place, 16 points behind fierce rivals Barcelona and seven behind neighbours Atletico, after losing 1-0 to Granada at the weekend.
Meanwhile Manchester United moved nine points clear at the top of the Premier League and are now firm favourites to win a record 20<sup>th league title.
However, Ronaldo still feels as though Madrid should be considered the better side as they put their sole efforts into winning yet another European Cup.
"I believe things will go well. In my opinion Read Madrid have a better team, but we have to show that on the pitch because United are a very united team and always have been in recent years," Ronaldo told the official Uefa Champions League magazine.
"They're a team that always do well, every year they're at the top and therefore a team we respect a lot. It will be an extremely difficult match, especially in Manchester."
Ronaldo also admitted that he was happy to be coming up against his former club as he still has a number of close friends at Old Trafford.
"I actually said beforehand that I believed we would draw Manchester United," he said. "I've wanted to face them for some time. I have great memories from my time there.
"It will be a match in which I will feel a lot. I was there for six years. I have a lot of friends there, people I will see with great pleasure, it will be a match with a lot of emotions."
Manchester United boss Sir Alex Ferguson has always spoke in glowing terms about the world class forward and Ronaldo was equally as flattering when it came to describing the man that gave him his first big break in football.
"He taught me the basis of football. I arrived in Manchester when I was only 18. He managed my career in the best possible way and for me he is one of the most important people in football," added Ronaldo.
"I still have an excellent relationship with him and it will be nice to see him again."