Sir Alex Ferguson believes veteran midfielder Paul Scholes will be available for selection this weekend, when Manchester United travel to Loftus Road. The Premier League leaders will hope for an easy and morale-boosting win against struggling QPR, with a high-profile Champions League clash against Real Madrid in 10 days' time.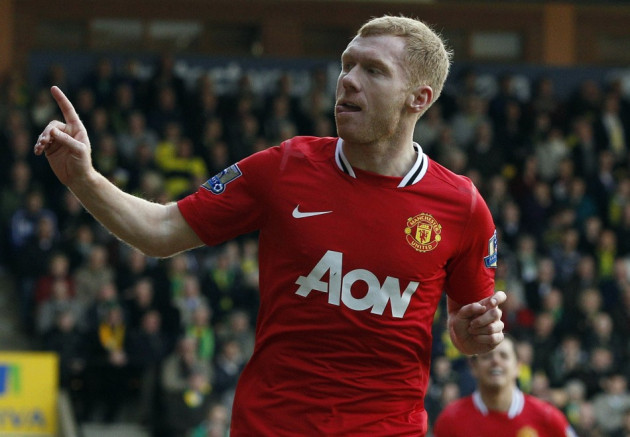 Scholes has been a key member of United's campaign so far this season, despite his age. And with fellow veteran Ryan Giggs for company, he has provided an invaluable measure of experience and stability in an otherwise lightweight United midfield.
Scholes has 14 league appearances to date and 19 across all competitions. However, he has been sidelined with a knee problem picked up after January's FA Cup tie against Fulham.
"Paul has had a little knee injury which we sent him to a specialist for," Ferguson explained to the club Web site, "It is a little bit floating in the knee which he has had for many years. He will be back, though. It won't be too long. We are just managing it at the moment."
Unfortunately for United fans, this piece of good news has to be balanced against the possibility England striker Wayne Rooney will likely be unavailable. The ex-Everton man has been battling a sinus problem for about a week.
"I wouldn't think so," Ferguson explained, "He came in for the first time yesterday [Wednesday]. The medical people are dealing with him. He just had a bad sinus infection. He got it on Saturday morning and didn't turn in. He has been on medicine but came in yesterday. Hopefully he will start training on Thursday."
Apart from the possible absence of Rooney, who has 10 goals and seven assists in 18 league appearances, Ferguson will certainly be without Phil Jones. The 21-year-old defender has an ankle injury. And midfielder Darren Fletcher's chronic bowel problem means he too remains unavailable.
United lead rivals Manchester City by 12 points at the top of the table and with Roberto Mancini's not playing till Sunday afternoon, three points against QPR will put pressure on the champions when they host Chelsea at the Etihad.