Manchester United are on track to post record revenue this year, after the club's second quarter revenue rose strongly on the back of a sharp increase in broadcasting earnings.
In the three months to the end of December, United's revenue increased 18% year-on-year to £157.9m ($198.3m), driven higher by a 40.8% jump in broadcasting revenue to £52.5m, with the new Premier League TV deal, which kicked off at the beginning of the season, offsetting the lack of Champions League football.
Meanwhile, a higher number of games at Old Trafford in the three-month period saw matchday revenue rise 27% year-on-year to £38.6m, as revenue from commercial operations was 1.1% higher than in the year before at £66.8m.
Profits before tax were 6% higher than in the corresponding period in the previous year to £17.5m, while operating profits rose to £37.6m.
However, the club's debt jumped 27% in the quarter to £409.3m, which United attributed to the pound's sharp decline against the dollar in the wake of Britain's European Union referendum on 23 June.
Sterling has fallen approximately 16% in the eight months since the Brexit vote and the drop has translated into an £88m increase to the club's debt.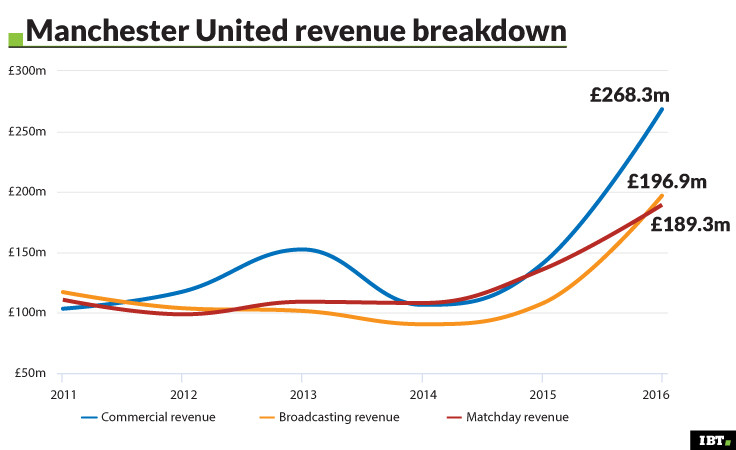 United also announced an exceptional credit of £4.8m, which relates to Bastian Schweinsteiger's reintegration in the first team squad. The former Germany captain had been written off as £6.4m worth of assets in the club's first quarter results, but has since played his way into Jose Mourinho's plans again.
Ed Woodward, the club's executive vice-chairman, said the latest set of figures illustrated United's financial position was on solid ground.
"We are pleased to be competing for the first available trophy of season in the League Cup final later this month and we remain on track to deliver record revenues for the year.
"The robustness of our business model continues to be reflected in our strong quarterly financial results," he said.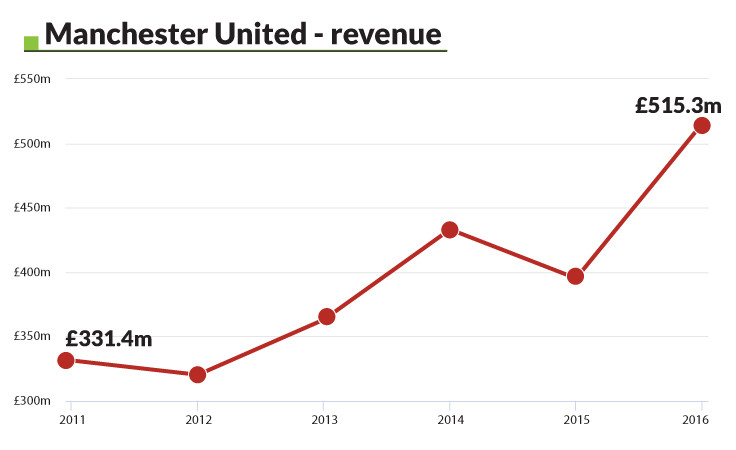 In January, the 20-time champions of England were crowned the richest club in the world in Deloitte's Football Money League, breaking Real Madrid's spell of 11 consecutive seasons at the top.
United's revenue stood at £515.3m for the 2015-16 season, the highest ever recorded by any football club, after increasing exponentially across all the three categories – broadcast, matchday and commercial.