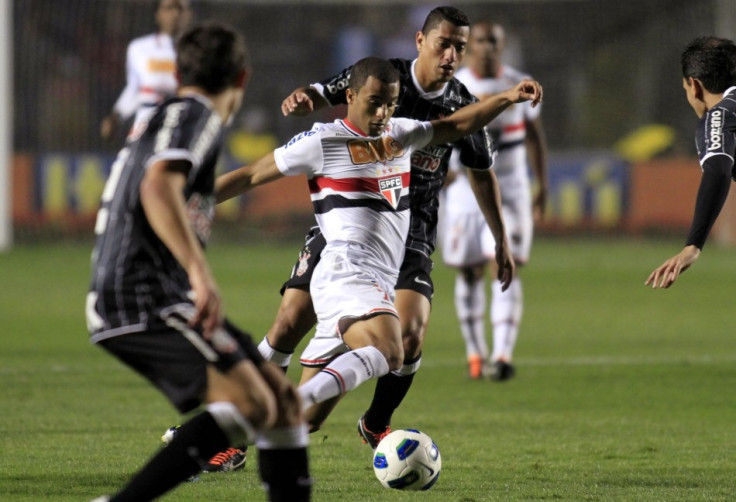 Manchester United have tabled an initial bid in excess of £20mn for Sao Paulo midfielder Lucas Moura, reports the Daily Mirror.
The Red Devils had reportedly sent a delegation to Brazil on Tuesday to hold talks with the Brazilian's representatives, as they continue their attempt to reach an agreement before the player joins up with national teammates for London 2012's football tournament that begins on 26 July.
Chelsea have had a £32mn offer turned down for Moura earlier in the summer and though United's initial bid has fallen well below Sao Paulo's valuation for the 19-year-old, the two clubs are expected to continue negotiations.
The report says that Red Devils' boss Sir Alex Ferguson has been given the green light to spend a chunk of his transfer chest on Moura, who has been regular in the Brazil's senior team, after making his debut for the five-time world champions last year. The club owners are understood to be happy to finance a big-money move, especially because of the player's young age and the potential sell-on value.
However, United will face some competition for their number one target's signature as Moura's father had a meeting with Inter Milan about a possible transfer last week, with Real Madrid also linked to the player after holding talks with his agents earlier in the summer.
"You never know what can happen. I don't have a crazy desire to leave but, when the time comes, I will speak with my family and decide what is best for my future. Of course I think about it, but I can't let it go to my head. I'm very calm and down to earth about it. My job is to play football so that these clubs continue to be interested," ESPN quoted Moura as saying.
United have been on the player's trail for more than year and had invited his father to Old Trafford for talks earlier this season. Moura's representative Wagner Ribeiro had also revealed that the Red Devils have approached in the player in the past as well.
"Lucas was approached earlier this year [2011] by Manchester United and Bayern Munich," Sky Sports quoted Ribeiro as saying.