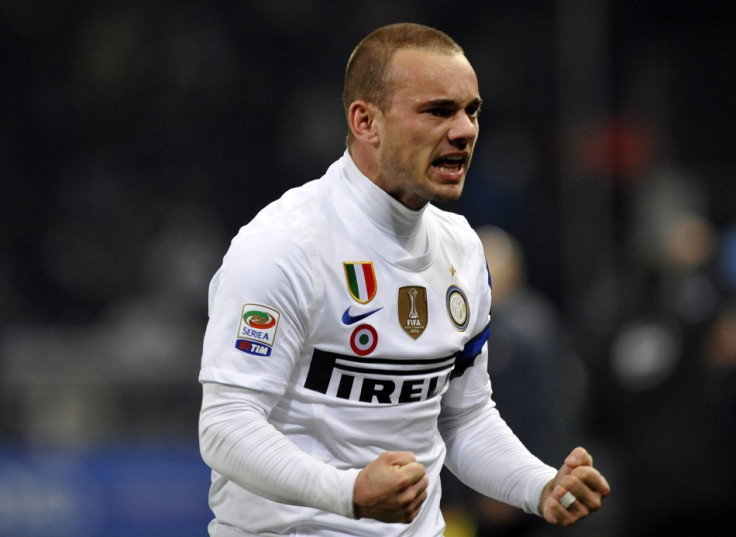 Manchester United cannot afford Wesley Sneijder's lucrative wage demands according to Italian football agent Enzo Bronzetti, who suggests the Red Devils are once again likely to fail in any purported effort to lure the midfielder to Old Trafford this month.
The mercurial playmaker has been perpetually linked with a move to Manchester United over the last six-months yet the 27-year-old's well documented financial demands, which reportedly exceed £200,000 a week, have thus far proved out of reach for Sir Alex Ferguson and his club's stringent pay structure.
In the summer, Manchester United were reported to have had a £35 million offer accepted for Sneijder, only for Ferguson to be deterred by the Holland international's personal demands.
Manchester United's inconsistent form, exasperated by an apparent weakness in their midfield which resulted in Ferguson coercing Paul Scholes out of retirement on Sunday, has been largely cited as the main reason behind their apparent malaise.
Although they remain just three points off the summit of the Premier League and still in the FA Cup, Manchester United's shock exit from the Champions League and individual results like the derby nadir back in October, has fuelled the club's detractors who have been quick to predict their imminent demise.
Manchester United's failure to sign Sneijder in the summer has been regular discussed as one of the fundamental problems this season, suggesting the likes of Ryan Giggs, Michael Carrick and Anderson have been too ponderous in Ferguson's midfield.
Injuries to Darren Fletcher and the hugely impressive Tom Cleverley have reignited reports of Manchester United's supposed interest in the aforementioned Inter Milan talisman, yet Bronzetti intimates the Red Devils are likely to encounter similar issues because Sneijder earns well in excess of £200,000 a week at the San Siro.
"Sneijder? He will remain in Italy with the Inter shirt." Bronzetti told Goal.com when discussing the possibility of the midfielder's possible move to Manchester United. "He has a very high salary and for now I do not think that he stays is unrealistic."
During his weekly press conference on Friday, Inter boss Claudio Ranieri's was asked directly about speculation in the British media which suggested a delegation from the Serie A giants, led by their technical director Marco Branca, had travelled to England to conclude a deal with Manchester United.
"He is an Inter player and he will remain with us," Ranieri declared when pressed on Manchester United's alleged talks.