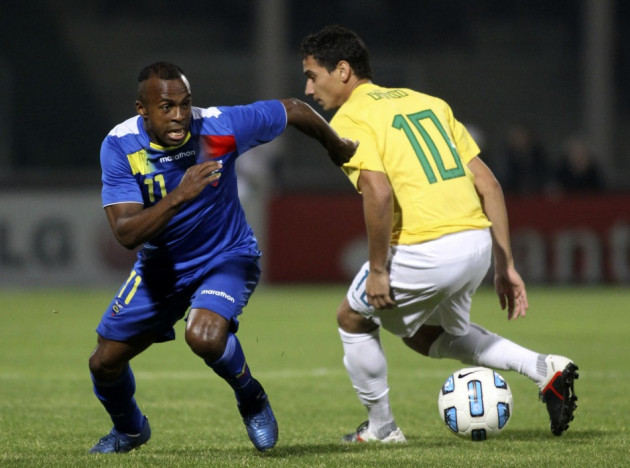 Manchester United are set to battle AC Milan for the signature of highly-rated Santos playmaker Ganso, reports suggest.
The Brazil international has been linked with a move to Italy since June, personally admitting his desire to play for Milan last week. But club vice-president Adriano Galliani has denied the club are interested in the 21-year-old, paving the way for United to sign the £26m-rated attacking midfielder.
"Milan does have a vacant place for a non-European player but it's not Ganso," Galliani said.
"If another player was to arrive it would be a midfielder. However, I believe that [Andrea] Pirlo can be replaced by a player that we already have in our squad. Right now we are happy with what we have and the team is 99 per cent complete.
"If a player was to arrive, one of our players would have to leave."
After United failed to sign Inter Milan's Wesley Sneijder, reports suggest Sir Alex Ferguson has turned his attention to Ganso, as he looks to find a replacement for Paul Scholes.
La Gazetta dello Sport indicates that both United and Paris Saint-Germain are interested in the midfielder, following the collapse of his Milan move.
However, the Premier League champions are yet to submit a formal offer for the player and Santos director of football Pedro Luiz Conceicao believes both Ganso and Brazil team-mate Neymar will remain in Vila Belmiro until at least the end of 2011.
"We feel 100 per cent secure and have total faith that the squad we currently have will stay, at least until the end of the year," he told reporters on Wednesday.
Meanwhile, United striker Wayne Rooney says he expects Liverpool to challenge for the Premier League title in the new season.
Liverpool, who have finished outside the top four in each of the past two seasons, have signed Jordan Henderson, Charlie Adam and Stewart Downing during the summer.
"They have made some really good signings," Rooney told BBC Sport.
"I am sure they will be fighting harder than they ever have done to be up there. They will think they have a chance of winning the title."
"The main threat is going to be from Chelsea, Liverpool, Arsenal and Manchester City.
"One of them, plus us, will be fighting for the title."
Finally, Ferguson has said the club have offered South Korean midfielder Park Ji-Sung a two-year contract extension.
"He has been offered a new contract, yes," Ferguson said.
"His career at United has been nothing but excellent. I'm sure he'll accept the new offer, and tie himself to the club for the next two years."