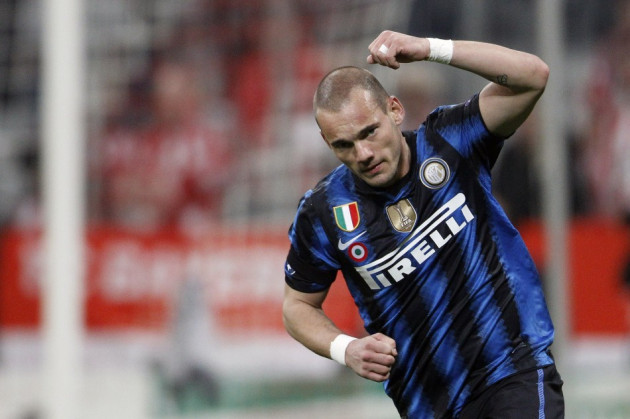 Click here for a full review of today's football transfer rumours
Despite Manchester United manager Sir Alex Ferguson's claims that his club has "no real interest" in Wesley Sneijder, reports today continue to link the Inter Milan midfielder with a move to Old Trafford.
According to various sources, United chief executive David Gill is "battling" to save the club's £35m bid for Sneijder, with the Premier League champions confident of finalising a deal in the coming days.
Goal.com said on Thursday that United officials had finalised a £35.2m fee with Inter and were in talks with the Dutch playmaker over a £200,000-a-week deal.
However, Inter director Marco Branca said earlier this week that Sneijder is "not for sale" unless a "mega-galactic" offer arrives.
And Sir Alex Ferguson yesterday denied making a move to sign the former Real Madrid player saying:
"I keep reading about this, there's absolutely nothing at all to that [reports of United's interest in the player]," he told ESPN Soccer.
"First of all I don't think Inter are prepared to sell him anyway."
With United's pursuit of Sneijder uncertain, reports today suggest Ferguson may turn his attention back to Arsenal midfielder Samir Nasri, perhaps even entertaining the idea of joining the battle for Tottenham's Luka Modric.
Arsenal have already rejected one offer from United and Arsene Wenger said this week that he expects the French international to stay at the Emirates next season.
"Samir's situation is clear for me, he stays," Wenger said. "We are in a financial situation where we can say 'No' and we will, in the case of Samir."
And with Tottenham manager Harry Redknapp reiterating his pledge not to sell Luka Modric, Ferguson may have to look elsewhere in his search for a midfield replacement for the retired Paul Scholes.
"We know he wants to leave and whether he writes it down on a piece of paper doesn't really make any difference to our stance," Redknapp told BBC Sport. "He's a great player and we don't want to lose him."
United may turn to long-term target Marek Hamsik, reports suggest, as Ferguson looks to address the imbalance at the heart of the club's midfield.
Ferguson is a long-time admirer of Hamsik and the 23-year-old Slovakian international has been linked with a move away from Naples this summer.
However, Napoli president Napoli president Aurelio De Laurentiis is reluctant to sell the attacking midfielder and the club have placed a hefty valuation on the player in an attempt to ward of interest from United and AC Milan.
"The indecent proposal would have to be €100 million, otherwise he will be staying here," he told reporters.
Finally, one of the summer's longest running transfer sagas appears to be over, as reports suggest Udinese forward Alexis Sanchez will sign for Barcelona this week.
United were interested in the Chile international earlier in the summer but Sanchez expressed his desire to play for Barcelona and the European champions appear confident a deal can now be reached in the coming days.
A Udinese representative told talkSPORT, "Both clubs have the utmost interest to finalise the transfer. The signing will be £27m plus variables - he prefers to play in Spain," he said.